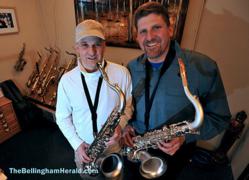 Bellingham, WA (PRWEB) April 30, 2012
The Bellingham Herald recently published a wonderful profile of the Wanne brothers, Tom and Theo. The article focuses on their story and the impact that Theo Wanne™'s innovations have on the woodwind world, including the new MANTRA tenor saxophone. Already well known around the world, Theo Wanne™ is beginning to gain more local attention and recognition.
Read the full article here.
After making his name known in Philadelphia, Theo joined Tom in their home town in 2005 and started a venture worthy of hometown pride. Their endeavors are helping to put Bellingham on the musical industry map. Since partnering with one of the top machine shops in the country, ProCNC, Theo's innovative instruments, mouthpieces and accessories have been turning the musical world upside down.
Theo Wanne is the eminent world expert on woodwind mouthpieces. The company is respected for its revolutionary products that inspire musicians and is considered the world's premier woodwind mouthpiece manufacturer. Theo Wanne™ is attracting the world's top musicians, dealers, distributors, and OEM prospects.
You can learn more about Theo Wanne™ by watching their new company video, Theo Wanne – Manufacturing and Innovations, or visiting their website at theowanne.com.