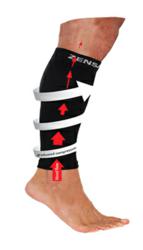 We started to receive several calls from customers who were not only using our sleeves for running, but also at their jobs as nurses, waiters, and professors. They told us how they used our product at work to keep their legs feeling warm and loose through
Miami, FL (PRWEB) April 30, 2012
Zensah®, a leader within the running market, has revolutionized traditional compression stockings with their new Fresh Legs™ Compression Leg Sleeves. The Fresh Legs™ Compression Leg Sleeves offer the same great benefits as traditional compression socks; however, their footless design allows them to be worn with opened toed shoes. The compression sleeves fit perfectly under jeans, pants, or even scrubs. While traditional compression stockings are only available in white, black, and beige, Fresh Legs™ offers over 16 colors and designs.
Nurses, construction workers, teachers, and anyone else who spends hours on their feet at work suffer from the same problem – tired legs. Fatigued legs affect performance on the job and cause overall discomfort. Fresh Legs™ Compression Leg Sleeves make use of graduated compression technology – providing the greatest amount of compression at the ankle and the least amount in the calf. As a result, a pressure gradient is created which improves venous return and enhances circulation. Legs feel fresh and energized with more oxygenated blood circulating throughout the body. The leg sleeves also provide extra support in the calf and shin area through advanced micro-ribbing.
While tired legs are most common during long work shifts, expecting mothers and travelers also frequently experience fatigued legs. When traveling, gravity leads to a buildup of fluid in legs, causing swelling, discomfort, and a tired feeling. Also, expecting mothers experience fatigued legs as a result of the decreased circulation that accompanies pregnancy. Fresh Legs™ helps to alleviate these common problems, providing a revitalizing effect to the legs.
Zensah's® Director of Marketing, Ryan Oliver, says, "While Zensah® has grown to be the leading brand within the running industry, we began noticing a trend as a company. We started to receive several calls from customers who were not only using our sleeves for running, but also at their jobs as nurses, waiters, and professors. They told us how they used our product at work to keep their legs feeling warm and loose through their entire shift. Through harnessing our advanced compression technology, we developed Fresh Legs™. The response has exceeded all expectations."
Fresh Legs™ Compression Leg Sleeves are available throughout the United States at specialty travel and wellness stores and may be found online at http://getfreshlegs.com/wellness.html
About Fresh Legs™: Fresh Legs™ is an innovative travel and wellness brand developed by Zensah®. Fresh Legs™ is used by those seeking to decrease leg fatigue and enhance circulation in their lower legs. Fresh Legs™ are available in both a full compression socks and as a footless leg sleeve.
About Zensah®: Zensah®, based in Miami, is the originator of seamless compression technology and is the top choice among athletes. Zensah® is the number one selling high end compression brand in the world.
Ryan Oliver
ryan(at)zensah(dot)com
ZENSAH COMPRESSION APPAREL
(305) 935-4619
###