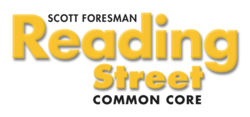 Chicago (PRWEB) April 30, 2012
This coming week thousands of reading teachers will gather at the International Reading Association's annual meeting, and tops on the conference agenda are the Common Core State Standards (CCSS) now adopted by 45 states. Reading teachers from around the country will be the first preview to Pearson's Reading Street Common Core Edition ©2013, a print and digital curriculum program 100% coherent with the recently-updated "Publishers' Criteria" for Common Core curriculum from David Coleman and Susan Pimentel, two lead authors of the standards.
Nancy Winship, Editorial Vice President for Pearson's Literacy Programs, said, "National experts Peter Afflerbach, P. David Pearson, and Karen Wixson, who also were leaders in the creation and review of the Common Core State Standards, guided Reading Street ©2013's development and coherence with the standards along with a full team of authors, researchers and practitioners."
She noted, "Districts everywhere are looking for new reading programs that will ensure that their teachers and students are ready for the Common Core. They are especially pressing us to be sure new programs meet the Common Core State Standards 'Publishers' Criteria,' most recently updated in April of this year." She cites key examples of how Pearson's K-6
Reading Street Common Core Edition ©2013, built on a strong efficacy research base, addresses the Common Core:

The program builds knowledge through content-rich nonfiction and information texts, specifically by organizing units of instruction around key science and social studies knowledge goals.
The most recent updates to the Publishers' Criteria added substantive additional recommendations to the Common Core. Reading Street meets these recommendations in various ways, such as ensuring a significant percentage of tasks and questions are text dependent, selecting specific anchor texts for especially careful reading, and making text the focus of instruction by avoiding features that distract from the text.
Reading and writing learning is grounded in evidence from text.
For example, the program's instruction focuses on multiple reads of a text that help children who need different levels of support strengthen their skills, making close reading central to the lesson, and providing reader tasks based on qualitative measures of text complexity.
Additionally, a new instructional aid, Reading Street Sleuth, differentiates instruction to help students develop close reading skills. Reading Street Sleuth encourages students to act like a detective by carefully reading a passage and utilizing textual evidence as clues to form an opinion, draw a conclusion and make a convincing argument. They then can prove their understanding of the text through tasks like writing, creating a graphic, or giving an oral presentation or performance.
Students are ensured regular practice with complex text and its academic vocabulary.
In Reading Street, vocabulary development comes from complex text and is based on the research of leading experts. With an increased emphasis on vocabulary instruction, the updated Reading Street has an instructional focus on sentences and words so that discussion lingers over words and phrases from the text.
Unique to Reading Street, text complexity rubrics designed by Pearson author Dr. Elfrieda Hiebert provide quantitative and qualitative measures for every weekly main reading selection.
The Pearson curriculum includes more opportunities for persuasive and argumentative writing along with embedded formative and formal assessments with a focus on performance-based tasks and reading for tests.
Winship said, "Reading Street ©2013 fully supports educators with professional development built into the program. Throughout the teacher's text, elements of the Common Core State Standards are called out to showcase how the standards relate to daily instruction." A new component of the program's educator resources, Common Core 101, provides annotated lessons, a glossary of Common Core terms, and articles tied to key teaching topics and strategies.
Learn more at http://www.ReadingStreet.com.
About Pearson
Pearson has as its mission to work side-by-side with states, districts, teachers, students and parents to ensure that every child is prepared for college and career (NYSE: PSO). http://www.pearsoned.com.
Contact: Kate.miller(at)pearson(dot)com; 800-745-8489