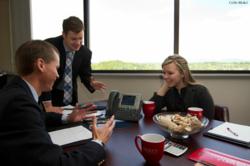 Lynchburg, Va. (PRWEB) April 29, 2012
Liberty University Online enrollment has been booming, more than doubling to over 70,000 students in less than three years. As the program continues to expand, the staff has been working to build corporate partnerships, offering Christian online education to local and national employers.
Initiatives like the Liberty Advantage Program, which offers employees of corporate partners a tuition discount, benefits both the employer and employees.
Recently, Liberty formed a partnership locally with Babcock & Wilcox Company (B&W, formerly BWXT), a leading international provider of energy products and services that employs over 2,000 in the Lynchburg area alone. Because of this, the Liberty Advantage program will be available to employees via their corporate discount website.
Other corporate partnerships include Wells Fargo, AT&T, Sodexo, Centra Health and the Billy Graham Evangelistic Association.
"Not only are we building relationships, we are fostering and maintaining them, with the goal of a long-term partnership," said Kevin Hartless, director of recruitment for Liberty University Online. "We try to help the company that we work with meet the educational goals of their employees."
Liberty not only offers a quality online education with a Christian worldview, it boasts one of the lowest tuition rates in the country. Many decide to earn a distance learning degree because of the flexibility it provides for a working lifestyle.
"(LU Online) goes with them. If (students) travel overseas, they have the freedom, whether they are in the airport, in a hotel room or in a café' somewhere in France, to access their courses and do their coursework," Hartless said. "The employee can then do the work on their own time, continuing with their regular work environment or spending time with their family."
In addition to direct corporate partnerships, Liberty is working to finalize partnerships with three educational consulting services, EDLink, EdCor and LifeCare that will offer the Liberty Advantage program to companies all across the nation and the globe.
"Once contracts are finalized, LU Online will be listed on hundreds of company websites accessed by tens of thousands of employees worldwide," Hartless said. "It helps us to continue our mission of training champions for Christ as we are able to connect with these companies that would be impossible to (reach) without these services."
Hartless said that while Liberty will continue to work with businesses directly, using these educational consulting firms brings companies to them.
"It is basically the difference between trying to educate tens of thousands of people individually or educating tens of thousands of people all at once," he said.
Liberty University, located in Lynchburg, Va., is the world's largest Christian university. More than 12,500 students attend classes on its 6,700-acre residential campus and more than 70,000 study in its thriving online education program.