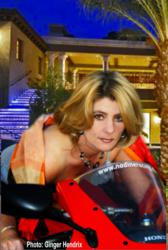 Win the Race of Life at 180 MPH
Los Angeles, CA (PRWEB) April 28, 2012
Nadine Lajoie, a championship motorcycle racer, international inspirational speaker, best-selling author and success coach has been invited to attend the world-renowned TEDx Conference in Montreal, a stage formerly graced by prestigious speakers including Steve Jobs, Bill Clinton and Al Gore to name a few.
Nadine has been popularly described as the "motorcycle racer who sings like an angel," an unusual title but one that's sure to draw attention at the upcoming event May 12th, 2012. This independently organized TED event will tackle the theme of success from different angles. "We have selected speakers that reflect the truly diverse social and business fabric of Montreal as well as ones that represent success from across North America. Speakers will be presenting in both English and French," said Hicham Amrani, the event coordinator.
The Montreal event is sponsored by Adobe, Hootsuite, Motivated Magazine, Cora Déjeûners and many others sure to draw crowd of business owners, entrepreneurs and industry professionals.
"I'm incredibly honored to participate in this internationally acclaimed TEDx organization, especially because Montreal is part of my heritage and I still own a few businesses there," commented Nadine, who has been a Los Angeles native for almost two years now.
Semi-retired at 36-years-old, her inspiring and entertaining story goes from hopelessness to success in many areas of her life. She now gives back to the community by inspiring and guiding those who also want to achieve great success. Nadine shares and teaches her philosophy: Win the Race of Life at 180 MPH.
This Friday, Nadine will appear at The Center for Spiritual Living in West Lake Village, Los Angeles participating in Les Brown's Media Book Launch, as a co-author in his best-selling book, "Fight for Your Dreams." Anyone who would like to meet Nadine or Les Brown is encouraged to attend the event. For more information visit: http://tinyurl.com/LesBrownBookLaunch.
About -- Nadine Lajoie is a championship motorcycle racer, international inspirational speaker, #1 best-selling author, singer/musician, coach and successful business woman, who guides entrepreneurs and teenagers to realize their dreams in her published books: "WIN The Race of Life… With Balance and Passion at 180 MPH" and "Fight For Your Dreams," as a co-author with Les Brown. To learn more visit http://www.WinTheRaceOfLife.com
You can reserve Nadine's inspiring show, presentations or coaching for your business, school or sport organization here at conference(at)NadineRacing(dot)com or call: 949.421.7562