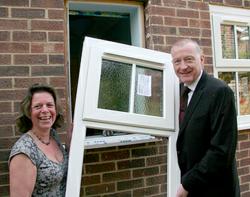 UK's first recycled PVC-U window ever to be retrofitted into a private house.
Andover, Hampshire, UK (PRWEB UK) 30 April 2012
The introduction of the Veka Infinity recycled uPVC profile has proved a hit for a Hampshire based double glazing firm KJM. In the last year the new recycled system has been installed into a private Hampshire home. It was the first installation in the country.
The windows were made from the Veka Infinity system. To make the event even more special, Network Veka brand ambassador Steve Davis was on hand to help with the installation at the Hampshire home of keen environmentalists Jon and Wendy Belfield. Wendy said they would never have considered PVC for their Hampshire home until local double glazing installer KJM Windows & Conservatories told them about Infinity. "We had asked specifically what environmentally friendly options were available for new windows," she said. "We got an answer we didn't expect – but as soon as they explained how the Infinity frames are made, we didn't need any more convincing."
The VEKA Infinity System combines the highest levels of technology, it has an environmental conscience, as Infinity profiles contain up to 80% recycled content. The core of the profiles are manufactured from recycled material and the important external skins from virgin polymer. Extruded to BS EN12608 performance standards, Infinity maintains UV stability, cold impact classification and heat reversion to provide the performance of virgin profile, with the social benefits of a recycled product – a must for many projects in the commercial marketplace.
In fact the Diocese of Winchester, a large Diocese that covers Hampshire, Bournemouth, East Dorset and the Channel Islands has decided that all future orders will be specified with the Veka Infinity profiles. The decision that was made by Diocese Housing Manager Chris Mariner, makes them the first commercial customer of KJM to use the mainly recycled PVCu profile system. Chris said on the decision " the use of recycled material wherever possible is a fantastic idea and I will be updating the board and committee of our new greener approach"
Mark Pearce the Managing Director of KJM said "The Diocsese have been a customer of ours since the mid 80's and have always looked for quality products and service, the decision to move the Veka Infinity, was a easy one for them as the costs, guarantees and service will remain the same. A greener approach to all aspects of life is now sort by many people, not just larger organisations" He also added that the system could be fitted with 44mm triple glazed units.