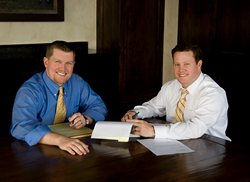 Andraya's and other victims' needs should be met no matter how insurance companies choose to stay in business
Draper, UT (PRWEB) April 27, 2012
Andraya Nelson and her fiancée's lives were dramatically altered when another driver swerved in front of their car, causing a major accident. Both Andraya and her fiancée were taken to the hospital with significant injuries. After hospital visits, chronic back pain persisted. The court case has on record that she was limited by her injuries at school and at home and her capabilities in general have been significantly diminished due to this terrible accident. She sought out the Christensen Law Firm to help her get the compensation for these lost or otherwise restricted abilities. After three long years, a judge was able to see Andraya's need for compensation. The judge awarded her with more compensation than the at-fault-party's insurance policy limit. The recognition of her physical and mental suffering by the financial payout the judge awarded has set a precedent for other victims like Andraya. It is now easier for other judgments to award compensation that may exceed the insurance policy limit of drivers.
"Accident victims are often left under compensated by insurance companies, which can lead to unpaid bills or even loss of medical treatment," said Ken Christensen of the Christensen Law Firm. That is very like what would have happened to Andraya Nelson had she not recruited the staff at the Christensen Law Firm for help.
Ken Christensen was well aware of certain tactics insurance agencies employ in order to get their clients to settle for less. In fact, an article published by the American Lawyer Academy said insurance agencies regularly employ such tactics in order to make the process of getting compensation so complex that their clients simply give up on pursuing adequate compensation.
"To look at both sides of the coin, that is how insurance companies stay in business; they are trying to cut their costs to maximize their profits," said Christensen. "It is in their best interest to start with a low settlement amount and work their way to a higher amount, unless forced to pay more by court order."
"Andraya's and other victims' needs should be met no matter how insurance companies choose to stay in business," said Christensen. This particular case went to trial and the outcome was ultimately determined by a judge who heard both sides, Andraya ending up as victor.
The personal injury attorneys at the Christensen Law Firm represent clients who have been injured in car accidents, bike accidents, dog bites, or a client who has lost a loved one in a wrongful death. They have won cases amounting to millions of dollars, which have ultimately enabled those who have been injured to better deal with the effects of personal tragedy that accompanies wrongful injuries. They have also written multiple free accident books, covering in great detail how best to handle a personal injury and the repercussions therefrom. If you have been injured or someone you know has suffered harm because of another's negligent actions, call the Christensen Law Firm today at 801-506-0800. They will personally speak with you about your Utah personal injury. Do not wait. Take advantage of their services and expertise.
The Christensen Law Firm:
Main Office -- 12357 South 450 East #3, Draper, UT 84020 -- (801) 506-0800 -- Fax: (801) 506-0801
Utah County Office -- 584 S State Street, Orem, UT 84058 -- (801) 224-2999
Davis County Office -- 503 West 2600 South #200, Bountiful, UT 84010 -- (801) 294-9500
Case Information: Case # 0904202402; Nelson v. Sillitoe; 3rd District, West Jordan, UT