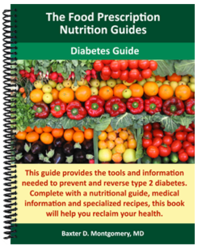 Houston, TX (PRWEB) April 30, 2012
Montgomery Heart & Wellness has released The Food Prescription Nutrition Guides: Diabetes Guide. This guide is a practical manual designed to help diabetes patients drastically improve their condition. The guide is based on Dr. Baxter Montgomery's Nutritional Boot Camp program, which has helped hundreds of patients control, and often reverse, diabetes. It includes a food classification system, recipes, diabetes information and a road map for detoxifying the body.
Through conducting his Nutritional Boot Camp program, Dr. Montgomery has amassed a large store of knowledge and experience in treating diabetes naturally. He has helped many patients permanently discontinue diabetes and related medications. While "true" type 1 diabetes cannot be reversed, patients with this condition have shown measureable improvements while following his food prescription protocol. Dr. Montgomery has compiled much of his knowledge and practical advice in the Diabetes Guide.
The Diabetes Nutritional Guide Includes:

Diabetes overview
Outline of the Nutritional Boot Camp
Guidelines for detoxing
Frequently asked questions
Dr. Montgomery's Food Classification System
Specific diabetic recipes
Benefits of Following this Guide:
Patients who follow this guide may be able to reverse type 2 diabetes
Reversal or prevention of many other chronic health problems, including heart disease, high blood pressure, obesity, high cholesterol and others
Improvement in energy, stamina and vitality
Decrease or removal of the need for medications
Improvement in quality of life factors - better work performance, better sexual performance, improved exercise performance
Increased attention and focus
Increase in wealth by decreasing healthcare costs - fewer medications, fewer doctor visits, fewer hospitalizations
With the information provided in this guide, any reader should be able to complete a four week detoxification period followed by a permanent switch to a lifestyle of optimal health. Though the guide focuses on diabetes, most participants who follow this program find improvements in all areas of their health and wellbeing.
About Dr. Baxter Montgomery
Baxter Montgomery, M.D. is a board certified cardiologist and cardiac electrophysiologist who has developed a groundbreaking health care delivery model that reverses chronic illnesses and saves money. He has founded Montgomery Heart & Wellness, a cardiology practice and wellness center in Houston that combines integrative therapies with aggressive nutritional intervention. Montgomery Heart & Wellness offers a nutritional boot camp, online membership, and a variety of other wellness services. The Montgomery Heart & Wellness website offers resources such as a diet plan for diabetes and a diet to reverse heart disease.
Dr. Montgomery is also a Clinical Assistant Professor of Medicine in the Division of Cardiology at the University of Texas Health Science Center at Houston and a Fellow of the American College of Cardiology. He does his clinical work in the world renowned Texas Medical Center and manages patients with arrhythmias and coronary artery disease, performs angiography, defibrillator implants, and other hospital procedures. He also teaches young physicians training in general cardiology and cardiac electrophysiology.