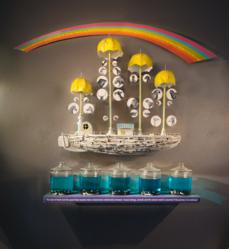 "The exhibit tells a complex story through many types of artistic expression," said Curator Georgina Kolber. "People from all walks of life can connect with it through the beauty of the exhibit itself and the many underlying themes that run through the in
Denver, CO (PRWEB) April 28, 2012
The Mizel Museum will stay open late on Thursday nights, now through Labor Day, for free admission to its permanent exhibit, 4,000 Year Road Trip: Gathering Sparks, an interactive journey through art, artifacts and digital media that narrates and illuminates Jewish history and culture. Visitors between 5:00 and 8:00 pm will receive free admission and free refreshments. The museum is located at 400 S. Kearney Street, Denver.
4,000 Year Road Trip: Gathering Sparks, launched in February 2011, opened a new era for the 30-year-old Denver institution, reshaping and reinvigorating the museum on a local level and on the national Jewish museum scene. During his opening night remarks, Mayor Vidal referred to the museum as "Denver's newest Jewish cultural gem and a delightful enhancement to the neighborhood south of Alameda Ave. and west of Monaco Street."
"The exhibit tells a complex story through many types of artistic expression," said Curator Georgina Kolber. "People from all walks of life can connect with it through the beauty of the exhibit itself and the many underlying themes that run through the installations."
The museum's regular hours are Monday/Tuesday/Wednesday/Friday, 9:00 am to 4:30 pm; Thursday, 9:00 am to 8:00 pm; and Sunday, 11:00 am to 4:30 pm. Regular admission is $7 for adults, $4 for seniors and college students, $3 for youth ages 6 to 18; and free for children under 5 years old. Call ahead to book a group tour. The museum is also available for rental for parties and events.
For more information visit http://www.mizelmuseum.org or call (303) 394-9993.
# # #
About the Mizel Museum
The Mizel Museum, a three-site institution, is a portal to the contemporary Jewish experience. Its exhibits, events and educational programs inspire people of all ages and backgrounds to celebrate diversity. Fine art, film, literature, drama, music, and technology offer interactive experiences that promote community, understanding and multiculturalism. The Counterterrorism Education Learning Lab (The CELL), a nonpartisan center whose mission is to empower citizens to help combat the threat of terrorism is located in the downtown cultural district. The CELL seeks to promote personal and community activism in order to help shape a better, safer world. Babi Yar Park is an open-air memorial to those lost in the Ukraine and elsewhere during the Holocaust. The Museum is located at 400 S. Kearney Street, Denver, where visitors can tour the new permanent exhibit, 4,000 Year Road Trip: Gathering Sparks. For more information, visit http://www.mizelmuseum.org or http://www.thecell.org, or call 303-394-9993.