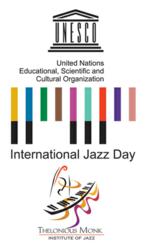 International Jazz Day to be observed on 30 April
New York City, NY (PRWEB) April 29, 2012
International Jazz Day to be observed on 30 April
Panel discussion and film screening to focus on "Unlearning intolerance"
The United Nations Academic Impact (UNAI), under the auspices of the Committee on Information of the UN General Assembly and in association with the Permanent Mission of India to the United Nations, will organize a special event to celebrate the first International Jazz Day on 30 April 2012.
The event, which will take place at UN Headquarters from 3:00 – 5.30 p.m., will include a panel discussion entitled, "Unlearning Intolerance: Jazz as a Force for Education and Dialogue," followed by the screening of "Finding Carlton, " a documentary film by Susheel Kurien, which " retells the universal story of jazz with a particular focus on the genre's "migration" to India. Several exponents and scholars of jazz music will discuss their personal perceptions about the role of jazz in bridging communities and cultures and how music can help "unlearn" ingrained intolerance.
Ambassador Eduardo Ulibarri, Chairman of the Committee on Information, will preside. Those joining him in the discussion will include:
Amir Elsaffar: Iraqi-American trumpeter, santur player, vocalist, and composer who has distinguished himself with a mastery of disparate musical styles and a singular approach to combining aspects of Middle Eastern music with American jazz.
Grace Kelly: Just graduated saxophonist from Berklee College of Music, Boston, she has performed with such jazz greats as Wynton Marsalis, Dave Brubeck, Phil Woods, the Boston Pops, Harry Connick Jr., Jamie Cullum and Esperanza Spalding.
José Masso: A native of Old San Juan, Puerto Rico, who has celebrated 36 years as host/producer of "ConSalsa!" on WBUR 90.9FM in Boston
Alexandra Yabrov: A native of Poland and Russia and Operations Manager at Scullers Jazz Club in Boston where she has been since 2000.
The United Nations Academic Impact (http://outreach.un.org/unai) is a global alliance of institutions of higher education and research committed to practical support to the United Nations in the realisation of its principles, purposes and mandates.
"International Jazz Day" was proclaimed in November 2011, by the General Conference of the United Nations Educational, Scientific and Cultural Organization (UNESCO). It is intended to raise awareness in the international community of the virtues of jazz as an educational tool, and a force for peace, unity, dialogue and enhanced cooperation among people.
For media queries and/or additional information, please contact: academicimpact(at)un(dot)org; tel. 212-963-4629/963-6555
Since 1989, the legendary Scullers Jazz Club has presented the biggest names in straight ahead, Latin and Contemporary Jazz, as well as Blues, Soul, R & B, Cabaret and World Music. Scullers Jazz Club has hosted some of the very best musical artists in the business including; Chris Botti, Roy Haynes, Jamie Cullam, David Sanborn, Arturo Sandoval, Christian Scott, Tony Bennett, Esperanza Spalding, Christian McBride and Wynton Marsalis to name a few.
Led by Jazz impresario Fred Taylor and by a team of dedicated jazz enthusiasts the 200-seat Scullers Jazz Club has become a true Boston landmark. Offering spectacular views of the Boston skyline and the Charles River, Scullers serves as the perfect backdrop for World-Class Entertainment in Boston.
In 2012, Scullers Jazz Club was nominated BEST JAZZ VENUE 2012 by the Boston Phoenix and in the past has been nominated for a 2011 Oasis Jazz Award (in the Best Jazz Venue Category). Over the years, Scullers has been voted "Boston's #1 Jazz Club" by Boston Magazine, Jazziz Magazine, Citysearch.com, CBS 4 Boston, Frommers, AOL CityGuide and The Improper Bostonian.
The Doubletree Guest Suites by Hilton Hotels, home of Scullers Jazz Club, overlooks the picturesque Charles River and the Boston skyline, and is Boston's premier Full-Service, All-Suite Hotel, featuring 308 Spacious Guest Suites. The Doubletree Guest Suites is located just one-half mile from Harvard Square and is close to Boston's Museums, Historic sites, Universities, Medical Centers, Shopping and Logan International Airport.