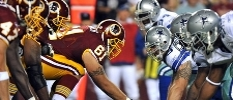 Virginia Beach, VA (PRWEB) April 28, 2012
With the 2012 NFL draft well underway, it's time to start thinking football. There have been some great athletes drafted. The Redskins picked one of the most talented players in quarterback and Heisman Trophy winner Robert Griffin III. They also drafted quarterback Kirk Cousins from Michigan State. Redskins fans should get their tickets and travel packages soon as prices are sure to go up. They currently have Redskins tickets starting at $39 and Travel Packages starting at $99. This year is guaranteed to be one of the most exciting seasons in Redskins history. Great Atlantic Travel & Tour also has a large inventory of tickets and travel packages for other NFL teams.
As a member in good standing of the National Tour Association (NTA), Better Business Bureau (BBB), and the International Association of Travel Agents (IATA), Great Atlantic Travel & Tour is committed to providing exceptional service for the sports traveler.
Sports fans interested in some great travel deals need to call Great Atlantic Travel at 1-800-888-8233 or visit their website at http://www.GreatAtlanticTravel.com