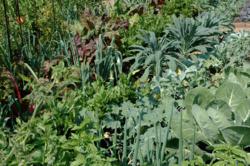 "Gardeners can easily make shopping less stressful and their vegetable gardens more productive by following a few simple steps," - Melinda Myers
Milwaukee, WI (PRWEB) April 30, 2012
The garden season is upon us and it is easy to be overwhelmed by all the plant choices in the garden center. "Gardeners can easily make shopping less stressful and their vegetable gardens more productive by following a few simple steps," says gardening expert Melinda Myers.
Myers suggests these strategies for successfully growing vegetables and herbs this season:
Start with a plan. First, gardeners should make a list of what they and their families like to eat. Next, look for planting space to grow the selected edibles. Keep in mind vegetables and herbs can be planted in containers, mixed with other plants, or grown in a garden of their own.
Match plants to the growing conditions. Grow any vegetables where the fruit is eaten, like tomatoes, peppers, and melons, or the flowers, like broccoli or cauliflower, in full sun (8 or more hours). Root crops like onions, carrots, and radishes will tolerate a half-day of sun (4-6 hours). And leafy crops like Swiss chard, spinach, and lettuce are the most shade tolerant (3-4 hours of sun).
Warm season plants like tomatoes, peppers, and squash need warm air and soil for best results. Wait for the danger of frost to pass or cover with floating row covers to protect early plantings from cool temperatures and frost.
Broccoli, lettuce, peas, and other cool season crops perform best in the cooler temperatures of spring and fall. "Don't worry if the spring planting date was missed in your region," states Myers. "There's always the option to add these vegetables to gardens in summer or fall for a fall or early winter harvest."
With a plan in hand, start with a walk through the garden center. Most garden centers group herbs and vegetables together. Individual types of plants are usually arranged in alphabetical order.
Check the plant tag for more details on a particular plant. The tags usually provide the size, spacing and time to harvest for each plant.
And now with the help of technology people can break out a smart phone and have access to more extensive plant information way beyond what the plant tag provides as well as find help with all of these steps. Shoppers will find that some plant tags now have QR codes that can be scanned to provide them with a plethora of gardening information at their fingertips. For example, Bonnie Plants recently launched a "Gardening at Your Fingertips" mobile site which features detailed how-to information geared toward on-the-go vegetable and herb gardeners. The site features planting tips, descriptions, recipes and free planting plans at m.bonnieplants.com.They even have a Spanish version available at http://m.bonnieplants.com/es
Make this a fun family activity. Get the whole family involved planting, tending, and harvesting the garden. "Even picky eaters are more likely to add vegetables to their meals when they help grow them," shared Myers.
Gardening expert, TV/radio host, author & columnist Melinda Myers has 30 years of horticulture experience and has written over 20 gardening books, including Can't Miss Small Space Gardening. She hosts the nationally syndicated Melinda's Garden Moment segments which air on over 100 TV and radio stations throughout the U.S. She is a columnist and contributing editor for Birds & Blooms magazine, a columnist for Gardening How-to magazine and hosted "The Plant Doctor" radio program for over 20 years as well as seven seasons of Great Lakes Gardener on PBS. Melinda has a master's degree in horticulture, is a certified arborist and was a horticulture instructor with tenure. Myers' web site is http://www.melindamyers.com