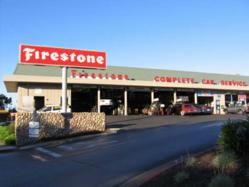 One stop shopping is our motto
Pacifica, CA (PRWEB) April 28, 2012
Sanford Firestone, an auto repair and tire store that provides brake repair and other services throughout Daly City, would like to offer the following tips to all drivers so that they can get the best tires for their cars:
1) When buying tires, consumers must ensure that they are purchasing the correct tires for their vehicles.
2) Altering the size, load index and the speed rating can change the mileage received and the overall handling of the vehicle. It can also affect the speedometer and gas mileage.
3) Consider purchasing road hazard coverage for new tires. With the National Road Hazard Tire Program, Sanford Firestone and thousands of retailers across the country will repair tires free of charge. If a new tire is damaged beyond repair, the tire will be replaced for free
3) If a customer is still unsure of what to buy, visit Sanford Firestone to receive advice on exactly what is needed at a price the customer can afford.
"One stop shopping is our motto," John Sanford of Sanford Firestone said. "Not only will we service your vehicle, we'll sell you the correct tires at an affordable price, and finish the job with an alignment."
Sanford Firestone serves as a personal "tire broker" because the tire store works directly with six major warehouses that offer every brand of tire available, including Bridgestone, Firestone, Fuzion, Michelin, Continental, Yokohama, BF Goodrich, Toyo, Goodyear and Pirelli.
"If it's out there, we can get it for you," Sanford said. "Consider letting Sanford Firestone go the extra mile for you. Once you buy tires from us we will rotate those tires for you every 5,000 miles free of charge."
For more information about any of Sanford Firestone's products or services, call 650-355-1155, view the auto repair shop on the web at http://www.sanfordfirestone.com or visit 705 Hickey Blvd. in Pacifica.
About Sanford Firestone
Sanford Firestone is the leading auto repair shop located in the Daly City area that offers a myriad of car services, from brake repairs to tire checks to car part replacements. The auto repair shop keeps clients' vehicles in top condition and offers hassle-free information to protect vehicles and keep them running for a very long time.