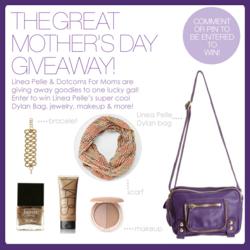 We are excited about partnering with Linea Pelle to offer mothers style and functionality for Mother's Day.
Los Angeles, CA (PRWEB) April 29, 2012
Dotcoms For Moms (DFM), a lifestyle site for today's contemporary mom, has partnered with Linea Pelle to offer a Mother's Day giveaway worth over three and fifty hundred dollars.
Linea Pelle handbags and accessories can be seen worn by the top celebrities this spring, including the Dylan Triple Zip Shoulder Bag included in the Dotcoms for Moms Mother's Day Promotion.
To complete the look, DFM has put together a stylish package of accessories for the promotion. The giveaway includes a gold bracelet, eternity scarf and a mix of cosmetics from top brands like Stila, Nars and Butter.
Registrations will be taken via re-pins on Pinterest and post commenting on Dotcoms for Moms site. The promotion runs through Mother's Day and the winner will be announced via the Dotcoms for Moms Facebook and Twitter accounts.
"Fashion and Beauty is a big area on DFM, and we are excited to launch a promotion that will give one lucky winner a gift of indulgence this Mother's Day." Rita Maucer, Founder of Dotcoms for Moms.
About Dotcoms For Moms
Inspired by her own busy life as a mother to three children (twin boys followed a year later by a girl,) award-winning television producer, author and lifestyle expert Rita Mauceri launched Dotcoms For Moms™ in January 2011 to provide moms a solution to the challenge they face online: keeping track of the gems and weeding out all the junk found in a typical online search. With the launch of Dotcoms For Moms™, Mauceri draws on her more than 15 years of experience in entertainment and women's lifestyle to create the ultimate online destination for moms of all ages with children of all ages. For more information on Dotcoms For Moms, please visit http://www.dotcomsformoms.com
A veteran television producer of top-rated entertainment and lifestyle programming at E!, Discovery, Travel Channel, TLC, and HGTV, Mauceri is a published author of two style books, "Frumpy to Foxy in 15 minutes Flat" and "Curves Rules and Flat is Fabulous: Sexy, Stylish Looks for Every Figure," and is best known online for her highly-read weekly entertaining and style columns on Yahoo!, Foxy Festivities and The Foxy Life.