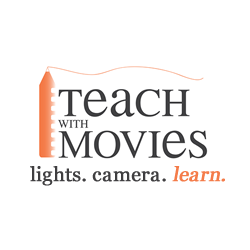 Each group member gets access to ALL the resources and materials available to regular members, but at a fraction of the cost
Los Angeles, CA (PRWEB) April 30, 2012
To jump directly to the program, click here.
TeachWithMovies.com is the premier site on the Internet showing teachers how to use feature films and other video resources to inspire students and drive assignments. On April 27, 2012, TWM announced a new 50% discount off its regular low membership price when at least ten teachers sign up at once. TWM's "School Membership Program" allows groups of teachers, whole departments, or entire schools to join TWM at a fraction of the normal cost.
The TWM website offers thousands of pages of lesson plans and curriculum materials for more than 350 feature films. In addition, there are helpful articles and downloadable student worksheets. Some Learning Guides contain curriculum materials designed to be printed and distributed directly to students. For teachers who do not want to tie up multiple class periods with a film, there are lesson plans using snippets or short film clips
The regular price for an individual teacher to access all TWM curriculum materials is only $11.99 per year. However, the new School Membership Program gives significant discounts to groups of 10 or more. The group pricing is based on a tiered structure; when more people sign up, each membership is less expensive.
The base price starts at just $6 per person for 10 users (a full 50% discount) and goes all the way down to $4.50 per user for those groups signing up 250 people or more (62% discount)!
How to Get Started:
Registration and setup require minimal effort. The group membership is valid for one year from the date the account is established. For example, if your group signs up on June 1st, each user will have access to all the TWM resources until June 1st of the following year. Group renewals are also available.
There are no restrictions or limitations on accessing content either. Each group member gets access to ALL the resources and materials available to regular members, but at a fraction of the cost. In fact, each person in the group will receive his/her own username and password so that he/she may access TWM materials from school, home or anywhere else that has an internet connection, 24 hours a day, 7 days a week.
Payment for group memberships can be submitted online via credit card or in the mail by check. TWM also accepts purchase orders for group memberships and an invoice can be issued to those requiring such documentation (available upon request).
Not sure how many people will be signing up? No problem! More people can always be added later. However, additional users must be added in increments of 5 users at a time.
For more information or to get started today, simply contact TWM by phone at (424) 543-4896 or by email to Group (at) TeachWithMovies (dot) com. Details about the program can be found on the TWM Website, or download the helpful .PDF flyer attached to this article.