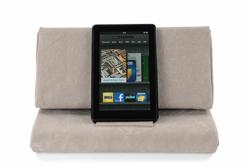 The new name more strongly aligns PadPillow with Apple's iPad, but the overall versatility and value of this accessory remain the same
Sunnyvale, CA (PRWEB) April 30, 2012
One of the signature products made by IPEVO — a designer of technology products for consumers, education and business — has changed names. The iPad accessory formerly known as Cushi Pillow Stand is now known as PadPillow Pillow Stand for all generations of iPad. PadPillow, which comes in one of three colors — Steve's Blue Jeans, Light Khaki, and Charcoal Gray — is currently available for purchase through IPEVO's online store at http://www.ipevo.com for a price of $34.00.
The name change is effective immediately, and the product pages are already updated in the online store. According to IPEVO, the physical packaging is also being changed to reflect the name change as swiftly as possible. During this transition, some customers may still receive packaging with the Cushi name. IPEVO assures customers that the product they receive is identical in features and functionality to the PadPillow advertised on the online store.
As the new name implies, PadPillow is designed for all three generations of Apple's iPad. However, ebook readers like Barnes & Noble's Nook and Amazon's Kindle, other brands of tablet computers, and even traditional books and magazines are suitable for PadPillow. The accessory is a plush pillow designed for reading and other tablet computing activities away from the desk. PadPillow conforms to the user's body to provide a soft yet sturdy stand while sitting, reclining on the sofa, stretching out on the carpet or lying in bed.
PadPillow has two triangular sections which can be folded together for a compact stand or stretched apart to accommodate a wireless keyboard. A 100% cotton denim cover is removable and machine-washable.
"The new name more strongly aligns PadPillow with Apple's iPad, but the overall versatility and value of this accessory remain the same," said Royce Hong, CEO and Big Head of Design for IPEVO. "Particularly for avid readers who enjoy relaxing and assuming a comfortable position as they read, PadPillow is the ideal companion whether you place it in your lap, on the bed, or on the arm of the sofa. We call it 'comfort computing,' and in fact PadPillow is so soft that you could use it as a pillow for your head after you're done."
PadPillow for all generations of iPad is available for $34.00 through IPEVO's online store at http://www.ipevo.com.