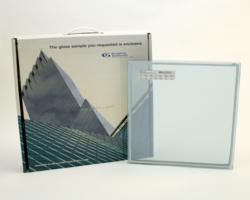 "We are proud to be a SunGuard Select Fabricator and look forward to offering SunGuard SNR 43 on the various substrates to customers who are seeking energy- efficient glass solutions that please the eye", says Ed Rosengrant, VP Sales and Marketing
South Gate, CA (PRWEB) April 30, 2012
Glasswerks Inc. -- a leader in commercial and architectural glass fabrication -- has added one of Guardian SunGuard's newest glass coatings, SNR 43, to its diverse line of glass products and services.
Guardian SunGuard SNR offers a high light-to-solar-gain ratio and low solar heat gain coefficient (SHGC) that meets or exceeds energy code requirements. A light-silver exterior appearance and medium reflectivity bring any glass structure to life. For added design flexibility, this attractive, neutral coating is available from from Glasswerks on Clear, UltraWhite low-iron, CrystalGray, Green and TwilightGreen float glass substrates.
SunGuard Select™ Fabricators are highly trained and experienced independent glass fabricators who specialize in working with SunGuard high-performance coatings to produce glass products for the commercial market.
SunGuard advanced architectural glass provides a comprehensive range of design solutions that allow architects and building owners to fully explore the aesthetic and functional possibilities of light.
About Glasswerks Inc.
Glasswerks Inc. is a leading commercial and architectural glass fabricator headquartered in South Gate, California. Glasswerks Inc. produces architectural glazing products, glass furniture, mirrors and decorative glass; specializing in the production and fabrication of laminated, tempered, insulated, bullet-resistant, hurricane-resistant, and high performance low-e glass products. Born out of the competitive construction landscape of Los Angeles in 1979, Glasswerks Inc. operates from eight U.S. facilities located in Southern California, Texas, Ohio, Pennsylvania and North Carolina. Catalina Tempering and Avalon Glass & Mirror are subsidiaries of Glasswerks Inc. Visit http://www.glasswerks.com for more information.
About Guardian Industries Corp.
Guardian is a diversified global manufacturing company headquartered in Auburn Hills, Michigan, with leading positions in float glass, fabricated glass products, fiberglass insulation and other building materials for commercial, residential and automotive applications. Its automotive trim group, SRG Global Inc., is one of the world's largest suppliers of advanced, high value coatings on plastics. Through its Science & Technology
Center, Guardian is at the forefront of innovation including development of high performance glass coatings and other advanced products. Guardian, its subsidiaries and affiliates employ 18,000 people and operate facilities throughout North America, Europe, South America, Asia, Africa and the Middle East. Visit http://www.guardian.com.
SunGuard, CrystalGray and Guardian Select are registered trademarks of Guardian Industries Corp. UltraWhite and TwilightGreen are trademarks of Guardian Industries Corp.