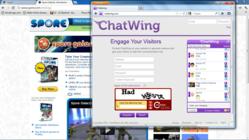 San Antonio, TX (PRWEB) April 29, 2012
When it comes to open-world exploration and creation, the statistics always emphasize Maxis, the developer company of Sims and Spore. These large games have generated many websites, forums, and chat discussions all throughout the web. Lately, the Spore game is sporting a comeback in chat applications. In Chatwing alone, players have been discussing their sentiments and opinions regarding the game. The chat box, as always, was frequently visited by Spore players far and wide.
When Chatwing's developers have developed the widget, they really intended to reach out to a large base of people in different communities, especially gaming. A gaming community alone has over thousands of active users, depending on the popularity of the game. According to game statistics, Spore has a high percentage of 'replays' because of its creature creation feature.
Chatwing's chat box operates on a simple platform, but it has the capability to maintain its connection for a long time. Adding to that, many people can chat simultaneously using the Chatwing's quick instant messaging feature. The developers have also stated that people loved the Chatwing shout box because it has an efficient rate of global connectivity and it can also be installed to blogs.
To install the Chatwing shout box, the user must first register his blog or website's domain name. After that, he can now set up an official Chatwing account. This account will become his dashboard for all of the widgets he wants to use. Customization is the next step. The user can modify the appearance of the chat box by dragging the height and width sliders. He can also pick the color appropriate for his blog. As a final touch, the user can also change the title of the widget.
It has also been noted that Spore bloggers use the Chatwing shout box to share links to their creature creations. Spore gamers exchange photos of their work on a regular basis. As a bonus, Chatwing allows Facebook integration. Now, guests and visitors can log in using their Facebook accounts. This makes profile information exchange easy and worth the time.
About Chatwing
Chatwing.com has developed live chat software for websites and blogs. It caters to different online communities due to its high rate of connectivity. The Chatwing.com website allows everyone to signup and create a customizable live chat box feature in 1 minute or less. Users have the ability to customize the size, color, and fonts of the chat product. The ability to chat via social media accounts such as Facebook and Twitter enable Chatwing to offer a personal and unique real-time experience to all sites. Chatwing is 100% free and very easy to use.