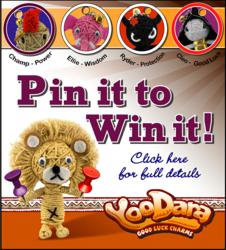 Win Your Own Set of YooDara Good Luck Charms!
Prescott, AZ (PRWEB) April 29, 2012
The YooDara Pinterest page at http://pinterest.com/yoodara/ is currently home to several unique pinboards highlighting the YooDara Tribes, Friends of YooDara, YooDara Favorite Places, and more. Pinterest users are encouraged to re-pin YooDara images, share their comments, and post their own photos related to the collectible charms.
Starting May 1st, 2012 and running through the end of the month, Pinterest users will be encouraged to enter the exciting "Pin It to Win It" contest hosted by the YooDara Pinterest page. To start, users must click "Follow All" on the YooDara Pinterest page. Next, users must access their own Pinterest page and make a new board titled "YooDara Tribe Wish List". In the board's description, users must enter "YooDara Good Luck Charms Pin It to Win It Contest May 2012". Users are then asked to browse the Pinterest YooDara Tribe Boards titled "Good Luck", "Power", "Protection", and "Wisdom" to find their favorite YooDara characters. Users are prompted to re-pin 9 of these images to their own newly created board. These 9 characters should be top selections, because this is the grand prize award for winning the contest.
All "YooDara Tribe Wish List" must be created by midnight EST on May 31, 2012. One randomly selected winner will be contacted via e-mail. Please visit the YooDara Facebook page at http://www.facebook.com/YooDara for complete details on the "Pin it To Win It" contest and for more opportunities to win free YooDara Good Luck Charms.
YooDara are handmade collectible string charms, offering positive messages special to each of the 36 characters, suitable for a variety of situations and lifestyles.
Collectors of YooDara are encouraged to visit YooDara.com as well as the YooDara social networking pages to participate in a dynamic online community that includes Facebook, Twitter, YouTube, and Pinterest.
Tribes of YooDara charms are grouped by common positive themes, including protection, good luck, power, and wisdom. Each character comes with an attachable disk to identify their name and power. Internet access codes on each disk provide members-only access to activities on the free YooDara.com website. QR codes on the package lead customers to the YooDara experience on the YooDara.com website directly from their smart phones.
YooDara Good Luck Charms have been featured by NBC's the Today Show as well as TrendHunter Magazine, the world's number one largest, most popular trend spotting community. The characters were also spotted with top YouTube personalities DeStorm and Jory Caron.
Follow the YooDara Twitter page and Like the YooDara on Facebook for instant news, updates and contests.
YooDara Good Luck Charms are available at specialty, gift, and souvenir shops throughout the nation. Visit our website for more information, or to find a YooDara retailer.
###
Dimension 9 is a manufacturer of quality gift products. Privately owned and operated, Dimension 9 develops and imports superior, high-quality and high-profit products. Products can be found in many prominent locations such as nationally recognized attractions and premier gift and souvenir stores, and is now growing internationally. Join the YooDara Good Luck Charms social movement by being a fan on Facebook at http://www.Facebook.com/YooDara, and following YooDara on Twitter at http://www.twitter.com/YooDara. For all the up to date information and latest news on YooDara, visit http://www.YooDara.com.