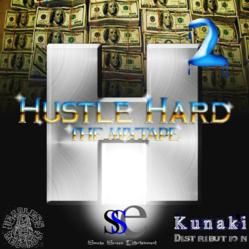 Miami, FL (PRWEB) April 27, 2012
Hip hop artist The Tech recently released his mixtape "Hustle Hard – The Mixtape." Presented by Coast 2 Coast, Smoke Screen Entertainment, and Fearless Music Group, it is now available for free download. "Hustle Hard – The Mixtape" features The Tech on tracks with guest artist appearances from S-A, Citizen X, Yung Cuzzin, Quez and Rome Sweets. It is Smoke Screen Entertainment's first mixtape release since the company's inception.
The Tech started making music at the age of 11, when he found that a lot of people in his neighborhood wanted to rap, but no one ever had tracks. The Tech took it upon himself to start making beats and, before long, was rapping with his peers. Coming from a difficult upbringing, where his mother was drug addicted and his father struggled to support the family, The Tech had a lot to get off his chest. After two failed deals working with people in the past, he decided to start Smoke Screen Entertainment to take control of his own music and make a name for himself in the industry. Looking to support his wife and two children, The Tech joined the Army in 2007, but is now on his way out and ready to reinvigorate his music career.
The members of Smoke Screen Entertainment are currently looking to spread awareness and build a buzz for the artists under the label, build a fan base, and continue to make quality music. "We need to get back to what rap used to be, people speaking their mind with no restriction," says Tech. "You won't find any techno or auto-tune here, and every song ain't about drugs and money."
"Hustle Hard – The Mixtape" is available for free streaming and download at http://coast2coastmixtapes.com/mixtapes/mixtapedetail.aspx/the-tech-hustle-hard-the-mixtape