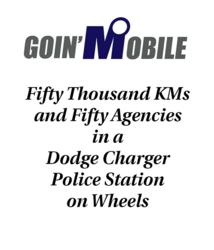 We are seen as a vendor of must-have apps for police BlackBerries and Playbooks.
Orlando, Florida (PRWEB) April 28, 2012
Attending two major mobile data conferences in two cities, two thousand kilometers apart within two days of each other is nothing new for Mobile Innovations President Gary Bauer. Winding up his company's year long 50,000 kilometre, "Goin' Mobile Tour" with an appearance at the 8th Annual Canadian Niche User Group Conference in Montreal, Quebec, Bauer will be arriving fresh from the BlackBerry World Conference in Orlando Florida. At both conferences Bauer will be showcasing his Mobile Police Assist (MPA) Apps for PlayBook 2.0 in a Dodge Charger police station on wheels.
Joined by Ken Koke of the Chatham Kent Police Service (CKPS) and Paul Grierson from D & R Electronics, Bauer will be on hand to demo the functionality of secure data access, Computer-aided Dispatch, RMS, e-Tickets, Activity and Vehicle Inspection Reports and other advanced mobile solutions for law enforcement. Chatham-Kent uses the MPA apps on a day-to-day basis, while Grierson's company upfits vehicles like the Charger - and more recently Ford Interceptors – with on-board IT and mounts to accommodate the PlayBook tablet.
Bauer and Grierson expect to impress attendees at both conferences not only with the power of their comprehensive PlayBook 2.0 solution, but also with its affordability; their tablet-based platform offers an eighty percent cost reduction when compared to conventional ruggedized laptop upfits with as many or more features. Agency representatives from as far away as Australia, Norway, Sweden and South Africa have requested demos at both conferences, adding a distinctly international flavour to the typically North American audience.
"The theme of the 2012 Niche Conference is mobile data." explains Bauer. "Compared to when we first started working with NICHE RMS as a partner six years ago and were seen as an exotic vendor of nice-to-have solutions in the law enforcement world, now we're definitely seen as must-have mainstream vendor." Supporting Bauer's statement is the fact that during the last year alone, he has visited over fifty law enforcement agencies to satisfy their requests for on-site live demos of his company's MPA apps for both BlackBerry smartphones and in-vehicle PlayBook tablets.
Chatham Kent Police Service's MPA / D&R Dodge Charger will be on-site for live demos for the duration of both conferences, as will be Bauer, Grierson and officers from the CKPS.
###
For more info please contact:
Gary Bauer – President
Mobile: 1-416-889-9997
Email: garyb(at)mobinnoco(dot)com
Mobile Innovations is a privately held company dedicated to enhancing law enforcement with the most advanced mobile data products available. Based in Niagara Falls, Canada, Mobile Innovations also has operations in Toronto and works with over fifty agencies across Canada, the United States and in the United Kingdom. Mobile Innovations is a member of the BlackBerry® Alliance Program with six years of service developing and deploying advanced mobile solutions for BlackBerry smartphones and PlayBook tablets.