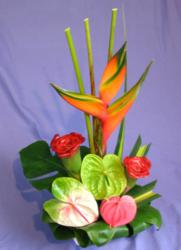 We wanted to create something special to show mom's how special they are.
Honolulu, HI (PRWEB) April 30, 2012
Mother's Day is May 13 and is the most popular time of year for sending flowers. With Our Aloha Hawaiian flowers and gifts is pleased to offer a special assortment of tropical flowers to honor mothers everywhere. The assortment is called 'Makuahine' which is the Hawaiian word for mother. It features the best of the season flowers including upright heliconia, anthurium and rose ginger. The tall heliconia represents the togetherness of the family. The anthuriums are shaped like a heart and the rose gingers signify love.
"We wanted to create something special to show mom's how special they are", said Frank MacMillan, owner of With Our Aloha. "This is one day to send something that will be remembered all year long."
The Hawaiian grown flowers are available in 6, 12 or 24 stem assortments and include tropical greenery. Fresh delivery by 2 day FedEx is guaranteed anywhere in the US. It is suggested that customers order well in advance as Hawaiian flowers sell out every year during Mother's Day week.
In addition to the cut flowers With Our Aloha also offers hand made orchid corsages and leis to celebrate mothers and grandmothers on their special day.
About With Our Aloha
Since 2000 With Our Aloha has provided farm fresh flowers and leis to all 50 states. All flowers are grown in Hawaii and leis are hand made. With Our Aloha also offers a large selection of local gift baskets and items including Kona coffee and macadamia nuts.