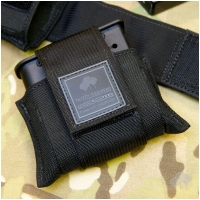 Phoenix, AZ (PRWEB) April 30, 2012
Wilderness Tactical Products introduces the Bolt-Action Mag Pouch, a new magazine carrier to meet the belt-carry needs for the growing market of detachable-magazine hunting and precision rifles. Hand-crafted out of their Phoenix, AZ headquarters, the Bolt-Action Mag Pouch joins their robust line of magazine pouches designed for tactical rifles in .223 or .308 caliber, and their pouches for single- and double-stack pistol magazines.
Two models are built to specifically fit magazines for the Steyr Mannlicher Scout Rifle, SBS, SSG08 and the Ruger Gunsite Scout rifles, or the numerous rifles fitted with the AICS (Accuracy International Chassis System) stock. Hunters and outdoorsmen finally have the ability to carry spare magazines conveniently for their Scout sporting rifles. Foam spacers are available to allow a snug fit for shorter five-round hunting magazines and Accuracy International (AI) staggered-feed Arctic Warfare (AW) 10-round magazines.
The Bolt-Action Magazine Pouch integrates Wilderness' signature wraparound belt loop design. It provides the ability to remove the pouch without taking your belt off while still ensuring a secure fit in the outdoors on their popular tactical belts.
The pouch's unique design allows the user to carry the magazine with bullets facing forward or rearward, making for a truly ambidextrous application. The sleek design makes it an ideal option for teams requiring a low-profile or concealed application. Unlike other models that The Wilderness manufacturers, the Bolt-Action Mag Pouch utilizes a wide retention strap which secures the magazine in place with hook-and-loop fasteners for security in harsh conditions. The body of the pouch is reinforced with a polymer liner to help hold its shape, giving it the durability expected from every Wilderness Tactical product.
Established in 1981, Wilderness Tactical Products provides consumers with the highest quality tactical gear and accessories on the market and proudly supplies our nation's military personnel, law enforcement and search and rescue agencies with equipment that continually exceed known standards.
About Wilderness Tactical Products:
Wilderness Tactical Products, LLC was founded in 1981 to fill the needs of people who demanded durable, high-quality equipment. Their products have been tested from the icy mountain peaks of South America to the blistering Sonoran desert for more than 30 years and they have proven themselves time and again. Wilderness-branded products have consistently been favorites of serious outdoorspeople, mountain climbers, search and rescue, American Pistol Institute and Gunsite personnel, as well as armed military, intelligence, police, instruction and civilian professionals around the world. For additional information please call 1-800-775-5650 or visit http://www.TheWilderness.com
Business contact:
Sam Dezonia
602-242-4945
Media contact:
Jason W. Jantzen
Phoenix Marketing Associates
http://www.phoenixmarketingassociates.com
602-282-0202