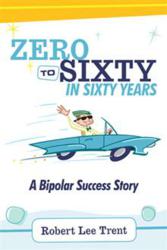 (PRWEB) April 30, 2012
According to the Depression and Bipolar Support Alliance, bipolar disorder affects approximately 5.7 million adult Americans. Growing up with bipolar disorder, Robert Lee Trent had a tough life – one that was only compounded by being surrounded by a toxic family. In his new memoir, "Zero to Sixty in Sixty Years: A Bipolar Success Story" (published by Abbott Press), Trent shares his struggles in overcoming his early setbacks to shape his life into one full of love and happiness.
Trent's memoir takes shape as a pseudo-narrative, beginning at a high school reunion with his wife. As memories come rushing back, Trent shares a look back at his life with his wife. He recalls his parents' volatile relationship, a force in his life that only caused drama, pain and sadness. He opens up, revealing the effects of his mental disorder. And he brings the story full circle bringing to light his wife's crucial role in his recovery.
His life story is impressive on its own, but it is what readers can take away from it that really matters. "It delivers several messages," says Trent, "from the destruction caused by a violent father and mean spirited mother, the success that can be achieved in the battle with bipolar illness, and that happiness can come at any age, but you've got to keep trying."
Trent recognizes that his story doesn't carry the clout of a celebrity or notable figure – he is just an ordinary person. But he still has an important idea to share. "In a word, encouragement," he says. "And don't just go to sleep at the wheel if you have bipolar disorder. Keep trying until you get some success."
About the Author
Robert Lee Trent was born January 17, 1948, in Bakersfield, California, to parents who had migrated from Oklahoma to find work. After moving back to Oklahoma, he attended school in Riverdale, a small football town on the banks of the Arkansas River. He and his wife, Jenna, currently live in North Carolina.
Abbott Press, a division Writer's Digest—the oldest and most respected publisher devoted to the education and advancement of writers—is an indie-publishing imprint dedicated to helping writers bring their literary vision to print. Author Solutions, Inc., a leader in indie book publishing, will fulfill publishing, sales, and marketing services for Abbott Press. For more information, or to begin publishing a book today, log on to abbottpress.com or call 866-697-5310.