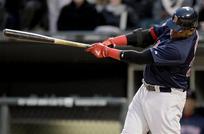 Los Angeles, CA (PRWEB) April 28, 2012
Red Sox fans were treated to an amazing game Friday night with Boston being dominant over Chicago to lead them to their 5th straight victory since giving up a 9-0 lead to the Yankees a week ago who are 0-5.
Despite a 39 degree temperature in Chicago, the Boston Red Sox were able to spark some heat at bat. It started with a 2 run hit by David Ortiz. The fifth inning Chicago came on strong courtesy of Paul Konerko's 3 run homer. 3-2 Chicago. The lead didn't last long thanks to a 5 run 6th inning including Darnell McDonald's double sending all 3 bases home.
Chicago White Sox starting pitcher John Danks came up short for the fifth time he started this season. He has seven runs on six hits.
"They hit mistakes. That's plain and simple. I was trying to make pitches, didn't, and they hit them. That's the story of the game," said Danks.
Red Sox starting pitcher Daniel Bard threw seven tight innings allowing 3 runs on 2 hits. He six strike outs and one walk.
McDonald homered in the ninth.
Chicago has lost four straight.
After Boston's brutal loss to the Yankees giving up a 9-0 lead, Ross commented that this road trip away from Fenway came at the best time.
"Yeah. Definitely. When we lost that game when we were up 9-0 at that point it was the bottom, it felt like. It was nice to get away from that. Get on the road," said Ross. "In baseball, I think it really doesn't matter. A lot of times, it's nice to have the home crowd behind you, but when you're struggling as a team, sometimes it's nice to just get away and it's been helpful for us. But it's something that is rare what we're doing."
On the news of the Red Sox victory Ticket Hunter Online.com Launches A 20% Discount on Remaining Season Tickets with promo code "WICKED" at tickethunteronline.com