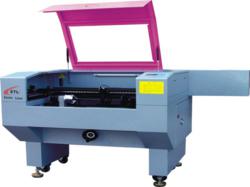 (PRWEB) April 28, 2012
Etlaser launches ETD1610 laser cutting machine for "laser cut acrylic". ETD series laser cutting machine represents the world-class level in terms of stability, precision and speed.
Looking for a laser that can laser cut acrylic, plastic, fabric, or many other non-metallic materials? This ETD1610 laser cutting machine with CO2 laser system by Etlaser allows users to create intricate designs and highly detailed cuts in all of these materials and many more, CO2 lasers are ideally suited for acrylic cutting, such as for applications like signage, displays and other presentation items. The laser can provide flame polished edges without the need for post-processing. Successful acrylic cutting depends on a variety of factors. This includes the material itself, the type of CO2 laser used and the power of the laser.
The power setting used is relative to the formulation of the acrylic material, thickness of the acrylic and the desired throughput of the laser machine. In general terms, the higher the output powers the faster you can cut the material.
Etlaser launches ETD1610 laser cutting machine main features:
◆ ETD1610 laser cutting machine adopts Smart Carver controller which is based on advanced 32bit DSP technology, improving the performance greatly. Stable S-type variable-speed controller software design ensures fast and stable running, and makes perfect cutting results by coordinating with auto laser compensation technology.
◆ETD series equipments are all installed with closed-loop motion control system to meet high precision standards.
Applicable materials and industries:
◆ ETD1610 laser cutting machine can be used for both cutting and engraving. It is suitable for almost all non-metal materials such as cloth, leather, wool, acrylic, wooden product, rubber, crystal, and ceramic tile, jade.
◆ ETD1610 laser cutting machine is suitable for users who have a high requirement about the precision of cutting and engraving, and is widely used in industries such as garment , leather, cloth toy, computer embroidery and clipping, electronics, handicraft, advertisement decoration, building upholster, package, printing, paper products, etc.
ETC-1680 details:
Laser type: China CO2 laser tube
Laser power: 30w-150w
Engraving area: 1600×800mm
Engraving speed: 0 -1500mm/s
Cutting speed: 0-800mm/s
Repeating locating: ±0.05mm
Moving system: CNC control system
Cooling mode: Water-cooling and protection system
Whole power: ≤1250w
Working voltage: 220±10% 50Hz (60Hz)
Operating temperature: 0℃~ 45℃
Pre-rating humidity: 5%-95%
Controlling software: Eastern laser software
Graphic format supported: CAD BMP,JPG,PNG,TIF,PCX,TAG,IOO,GIF,PLT
Gross weight 350KG