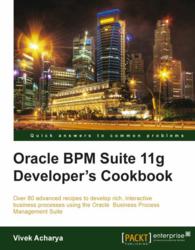 Over 80 advanced recipes to create rich, interactive business processes using Oracle BPM suite
Birmingham, UK (PRWEB) April 29, 2012
Packt brings to you the Oracle BPM Suite 11g Developers Cookbook, a comprehensive book and e-book that will enable its readers to learn BPM Suite 11g with the help of a real world sample process. It is designed to help readers delve into the BPM Process Implementation as a process developer while assorting the BPMN elements.
About the Author:
Vivek Acharya, an Oracle consultant, has been in the design, development, consulting and architect world for approximately seven years. He has worked in Oracle Practice at IBM, HP, and Zensar. Certified by Oracle as an Expert in Oracle Fusion-SOA 11g Implementation and Oracle - BPM 11g Implementation, he has experience and expertise in Oracle Fusion - SOA, BPM, BAM, Mediator, B2B, BI, AIA, Web logic, Workflow, Rules, Webcenter, UCM, IDM, Oracle fusion applications, SaaS, OnDemand etc.
The Oracle BPM Suite 11g Developers Cookbook will help readers develop a rich user interface using Oracle ADF for the BPM Process. It will not only help them in managing errors but will also help monitor and administer the BPM Process. Apart from this, readers will also learn to unfold the BPM Process to Run-Time using the BPM Studio.
Some of the principal chapters emphasized in this book are:
Chapter 1: Process Modeling
Chapter 2: Process Implementation
Chapter 3: Process Deployment and Testing
Chapter 4: Business Rules in the BPM Process
Chapter 5: Human Workflow in BPM Process
Chapter 6: Process Simulation
Chapter 7: Developing UI using Oracle ADF
Chapter 8: Exception Management
Chapter 9: BPM and SOA in Concert
Chapter 10: End User Interaction
Chapter 11: Manage, Monitor and Administer BPM Process
This book is categorised in four sections: Modeling, Implementation, Measuring and Deployment. A common process model based on BPMN is presented to the specific role assigned to readers in each chapter.
Written in an easy to understand format, filled with screenshots and step-by-step explanations, this book is an ideal companion for BPM, Oracle SOA or Oracle Fusion Applications - developer, designer, architect, end-users, who are looking to develop BPM solutions without impediments.
Packt Publishing has also released other related titles including:

Do more with SOA Integration: Best of Packt (Published)
BPEL PM and OSB operational management with Oracle Enterprise Manager 10g Grid Control (Published)
Oracle SOA Suite 11g R1 Developer's Guide (Published)
Getting Started With Oracle SOA Suite 11g R1 – A Hands-On Tutorial (Published)
About Packt Enterprise:
Packt Enterprise is a leading publisher of Enterprise books for Oracle, Microsoft, IBM, SAP, Citrix and other technology companies. Packt Enterprise develops books for Architects, Developers, Administrators and End User alike.