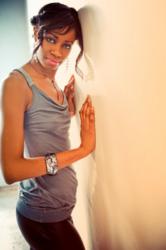 Karen was a natural to work with
London, UK, 29 April 2012 (PRWEB UK) 29 April 2012
Another successful photo shoot by La Mode results in a brand-new modelling portfolio for a mature model with high aspirations.
La Mode specialise in providing all the latest up to date modelling advice as well as offering a top-class photo shoot to help an aspiring model launch their career. The latest model on their books, Karen McLean, shows age certainly shouldn't hold an aspiring model back as she demonstrates her model application. A model life certainly begins at 40 in this case and Karen is testament to still looking absolutely stunning.
'Karen was a natural to work with and her skin is absolutely flawless,' said a spokesperson for La Mode. 'It goes to show that if you can look after your skin, and pamper it from an early age like Karen clearly has, it's never too late to start a career in the modelling industry.' La Mode goes on to explain that as a 40-year-old, Karen is classed as a 'mature' model.
'Anyone over the age of 30 is classed as a mature model, ' say La Mode. 'It's a bit unfair really because it encompasses the whole modelling ages from 30 up to the grand old age of 90 in some cases, which can sometimes be a little off putting for a model if they are only in their 30s or 40s.'
Karen obviously isn't worried about her age and she certainly looks more than 10 years younger. In her free time she enjoys salsa dancing, swimming, cycling, jogging and skiing so she certainly keeps herself very fit which has obviously helped her look so good.
Having had previous modelling experience, including photo shoots for various magazines, catwalk shows for number of shops and charity events, Karen is determined to take up modelling as a full-time career. She has appeared in a BBC children's television programme about modelling agencies so she is used to being in front of the camera.
Asked why she became a model, Karen explains,' because I enjoy dressing up, especially in nice clothes and being pampered and transformed into an image from somebody else's imagination.'
The six-foot brown eyed brown haired girl is a dress size 8 to 10. 'I like being around naturally beautiful people and I feel that I have what it takes to become good model since I am easy going and very open-minded. I'm always being encouraged to do modelling by my friends, family and strangers.'
Used to socialising and already having some modelling experience, La Mode think this 40 year old model should certainly continue gaining work into her maturing modelling years. Karen is interested and available for commercial, catalogue and catwalk modelling and isn't shy about baring all if art and life modelling work is available at any time.
To view Karan McLean's information and her stunning new model portfolio just launched online, visit http://www.lamodelondon.com