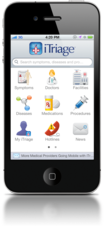 Our partnership with iTriage helps us connect with patients when they need treatment for unexpected illness and injury
Shreveport, LA and Denver, CO (PRWEB) April 29, 2012
With U.S. smartphone ownership now at 50% according to the latest Nielsen survey, more people than ever before are using their mobile devices to access information online. In response to this growing consumer trend, WK Quick Care has partnered with iTriage® – a one-stop healthcare app and website that gives patients fast and easy access to health care information.
The free iTriage app and website helps Shreveport-Bossier residents and visitors answer the two most common medical questions: What could be wrong? and Where should I go for treatment? Integrating with iTriage lets Quick Care connect with patients when they have an immediate medical need by providing them with information about services, hours, directions, and even reduce wait times with online registration.
"Quick Care is committed to providing the community with the technology and resources to quickly and conveniently access health care information and services," said Lesley Sawrie, WK Quick Care director. "Our partnership with iTriage helps us connect with patients when they need treatment for unexpected illness and injury."
iTriage also lets users do the following:

Research medical symptoms and conditions
Learn about possible causes and treatment options
Get medication refill and appointment reminders added to personal calendars
Access a nationwide database of hospitals, urgent cares and physicians from anywhere in the U.S.
iTriage is available as a free download from app stores for iPhone® and Android™ mobile devices, and is accessible from any Internet-enabled device at http://www.iTriageHealth.com.
Quick Care, backed by the reputation of the Willis-Knighton Health System, has three convenient locations in the Shreveport-Bossier area. Each location is open seven days a week from 7 a.m. – 7 p.m., and no appointment is necessary. For more information, please visit http://www.wkquickcare.com.