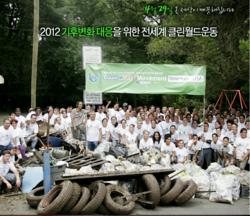 We will not stop the step of love, wishing the people of the world to participate in the Clean WORLD Movement
Washington, DC (PRWEB) April 28, 2012
Climate change is a topic of conversation in the international society. In order to cope with unusual weather phenomenon that threaten human welfare, the people of the world throw themselves into the matter with enthusiasm, centering on the Rep. of Korea. Recently, there have been severe damages from environmental disasters such as flood and heavy snow due to climate change. To prevent environmental pollution and fulfill human welfare, people of the world are going to carry out the environmental clean-up movement in the hills, rivers, streets, parks and seas of their countries.
It is the "2012 Clean WORLD Movement" to be held throughout the world on the following Sunday (Apr 29), hosted by a global welfare organization, the Intl. WeLoveU Foundation (Chairwoman Zahng Gil-Jah). This day will be a Clean Day when the whole world becomes clean.
It is very rare for an NGO, not a world or governmental organization, to perform such wide environmental clean-up activity to cope with climate change. The Intl. WeLoveU Foundation said, "Many people of each country gathered their mind to take the initiative and set an example of helping people in crisis due to climate disasters and making known the seriousness of climate change and environmental pollution,"and added, "In the clean environment, clean life can be formed and true human welfare can be completed. If more people of the world agree with and participate in this, it can be fulfilled."
The Clean WORLD Movement is an environmental welfare activity with a new concept, which the Intl. WeLoveU Foundation expands worldwide, starting from the Rep. Of Korea. The WORLD is the combination of the initials of Water, Oxygen, Region, Life and Descendant, and contains the meaning that we should preserve clean water, oxygen, region and life that consist of global environment and leave them to our descendants. According to this meaning, the Intl. WeLoveU Foundation is actively proceeding with the environmental clean-up and welfare activities, considering that the environment and welfare are closely related with each other, not separate.
This time, the Clean WORLD Movement is going to be carried out throughout Korea – Gangwon, Chungcheong, Jeolla, Gyeongsang, Jeju, and so on including Seoul and capital area and each continent of the world – in North America including USA and Canada, South America, Europe, Asia, Oceania, and Africa. The clean-up activities are carried out freely in the hills, rivers, seas, parks, historical sites and streets according to each local circumstance. Not only the WeLoveU members but also their families, friends and neighbors will participate in it and public offices like city hall, town office, and borough office of each region are also going to take part in it. This will be a great help to inform the importance of environmental protection to citizens.
In Washington DC's very own Shepard's Park the movement will be held. Approximately 200 WeLoveU members from DC, Richmond, Virginia Beach and North Carolina will come to aid residents and locals who have constantly battled illegal dumping in and around their homes. Shepard's Park is known for it's leading value in the enhancement of diversity since the years following World War II and through this movement, the International WeLove U Foundation, would like to shine the light in DC starting in Shepard's Park to the whole WORLD in hopes that each and every resident will care to MOVE and make our communities a better place.
The Clean WORLD Movement that the Intl. WeLoveU Foundation performs is carried out around the world every year. For example, the foundation developed the clean-up activities in the hills, rivers, parks, and streets in USA, Canada, Australia, New Zealand, Germany, Singapore, Nepal, Mongolia, etc. in 2010. In Korea, too, clean-up activities were carried out in about 300 regions – Jungrang Strem in Seoul, Daebu Islan in Gyeonggi, Anyang Stream, Incheon Port, Sokcho beach, Mt. Palgong in Daegu, Traditional Korean House Village in Jeongju, Geumnamro park ini Gwangju, etc. Many people including workers, university students, housewives, middle and high school students participated in the Clean WORLD Movement, holding garbage bags, burlap bags and tongs on holiday. Seeing this, even nearby residents helped carry garbage and do clean-up activity. Children and teenagers who came with their families had the opportunity to experience volunteer activities, and adults like workers, university students and housewives who usually find it difficult to do volunteer service due to their daily busy work said that they felt great to participate in the environmental protection.
Their active volunteer service was reported on the news media in Mongolia, Cambodia, Nepal, etc. The Cambodian TV broadcasted the Clean WORLD Movement, delivering positive reviews, "The clean-up enabled tourists and residents to pleasantly use the Mekong River which had been full of trash and debris and provided a good opportunity to inform the Phnom Penh citizens of the importance of the environmental protection"
The WeLoveU Foundation said, "Some changes through the Clean WORLD Movement appear little in every country. Not only in less developed countries and developing countries, but also in advanced countries like USA and Germany of which social security system is comparatively organized well, civic awareness changed – citizens take action to protect environment. In Europe, the clean-up started in Germany and Netherlands, and gradually expanded to more regions and nearby countries like England, France and Italy."
Zahng Gil-Jah, Chairwoman of the Intl. WeLoveU Foundation, said, "Though everyone has busy daily work, if many people put their short time and little effort in this at the same time, the whole world can be clean. We will not stop the step of love, wishing the people of the world to participate in the Clean WORLD Movement all together and make the world better and beautiful."
The Intl. WeLoveU Foundation Develops Global Welfare Activity Through "Mother's Love"
The Intl. WeLoveU Foundation develops various welfare activities such as child welfare, youth welfare, senior citizen welfare, social welfare, emergency relief and so on for the people of the world who are suffering from wars, famine, earthquakes, etc. with the purpose of the fulfillment of human welfare with Mother's Love.
The WeLoveU Foundation carries out welfare activities in various fields: the New Life Family Walkathon that started to help children with heart disease and incurable diseases and extended in size by helping other countries with water shortage, the New Life Concert that supports neighbors in need in and outside the country and multicultural families, etc. and the Blood Drive that helps patients in danger of their lives due to blood supply shortage. Being moved by their constant and heartfelt volunteer activities for our global neighbors, participants increases every year and experts in every field including officials of local government and ambassadors of other countries like Ghana, Cambodia, Gabon, etc. have been participating in it.
On March 26th, when the Gabonese president visited Rep. Of Korea to attend the 2012 Seoul Nuclear Security Summit, the WeLoveU Foundation signed an agreement with the Gabonese Republic in the Middle West of Africa to cope with global climate change and to take action for environmental welfare activities together. It is very rare for a head of a country, who made a state visit to Korea, to make an agreement with a head of NGO in person. That day, Gabon's President Ali-Ben Bongo Ondimba said to the WeLoveU, "You are the protagonists who take responsibility of the future of Korea. Let us maintain a better relationship from now on."
The Intl. WeLoveU Foundation is going to hold the "14th New Life Family Walkathon to Help Climate Refugees Around the World"with about 12,000 participants in the Olympic Park, Seoul on May 13. It is expected to help climate refugees who are in danger of their lives because of environmental disasters including the people of Tuvalu, an island country in the South Pacific Ocean, which is gradually sinking into the sea as the sea level is rising due to global warming, climate change and so on.
###