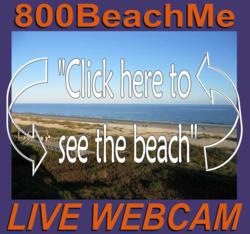 If they can't get to the beach, we might as well get everyone thinking about it and a live Web Cam is a way to do that
Hilton Head Island, SC (PRWEB) April 29, 2012
Recently, the popular Hilton Head Vacation Rentals company from Hilton Head Island, SC announced that they have added a LIVE streaming Web Cam to their website. The Axis brand P5532-E Network Camera allows visitors to their website the opportunity to look up and down the Folly Field Beach area of the island by selecting from eight different preset locations. Hosted by HD Relay, also known as US Relay, the Hilton Head Vacation Rentals Web Cam uses the HD Relay eLivestream Streaming Service, which ultimately allows multiple users seamless access to the live video feed with high quality content still intact.
Hilton Head Island as seen from the air resembles the shape of a foot and is often referenced this way to describe various parts of the island. The bottom of the foot faces the Atlantic Ocean with the heel to the North and the toe to the South. Hilton Head Vacation Rentals ocean front Web Cam is located at The Island Club Resort at 85 Folly Field Road, just slightly south of The Westin Hotel and Resort. Each of these resorts is considered to be located on the heel of the island and the Web Cam has a great view of all the action up to a mile or more in each direction.
Mike Wood who is the General Manager of Hilton Head Vacation Rentals had this to say, "Who doesn't want to see the beach? When I started looking around Hilton Head at the available Web Cams online for our area, I was surprised to find that there was only about two that you could actually see the beach and the quality for each of these was very poor. I knew at that time, this was a project that we could do better than anyone else and that it would not only be a good way for us to increase traffic to our website, but it would also be great exposure for everyone on the island who depends on the nearly 2.5 million visitors we see here each year! If they can't get to the beach, we might as well get everyone thinking about it and a live Web Cam is a way to do that."
Hilton Head Island is considered to be the second largest barrier island on the eastern seaboard next to Long Island in New York. It is located in the most southern and east portion of South Carolina and is about a 50 minute car ride to Savannah, Georgia or only 20 miles as the crow flies. It is roughly 42 square miles, 12 miles long and about 5 miles wide. There is roughly 38,000 permanent residents and attracts nearly 2.5 million tourists annually.