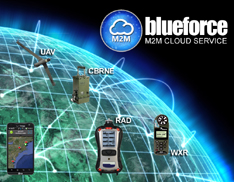 Salem, Massachusetts (PRWEB) April 30, 2012
Unattended machine sensors continue to deliver real value for life safety, decision support, and supply chain processes. Too often though, these machine sensors send their data into the cloud and then force the person who is relying on the data to go find it. When this use model is exacerbated across scores of sensors from multiple manufacturers, operational expediency and decision process decays rapidly.
Blueforce's new Machine‐to‐Machine (M2M) Cloud Service takes input from multiple, and disparate, unattended sensors (UGS) and normalizes the output into a standards‐based information flow that can be viewed inside of Blueforce Tactical for Android, Blueforce Command Center Common Operational Picture (COP), or any Jabber/XMPP standards‐based client. When combined with Blueforce Command Center, sensor data may be viewed alongside other mobile‐based assets as well as shared in real‐time on Geospatial Information Systems (GIS) using the product's dynamic KML output. This cloud agent can be hosted on any Windows-based server platform and can support thousands of subscribed endpoints as well as hundreds of inbound sources and can be hosted on enterprise infrastructure or by an outsourced cloud service provider.
"Our new Machine to Machine Cloud Service Software delivers a cost effective and scalable solution to the challenge of capturing and sharing telemetry when multiple sensors from multiple vendors are pushing mission critical telemetry into the cloud. The software aggregates, normalizes, and securely pushes content to subscribed endusers who have a need to know", said Michael Helfrich, Blueforce Development CEO.
About Blueforce Development Corporation:
Blueforce Development Corporation develops and delivers mobile and wireless collaboration and M2M software products for the national security, infrastructure protection, public safety, and personal life safety markets. More information can be found at http://www.blueforcedev.com/about-2/m2m/ or by calling Blueforce at 866-960-0204.