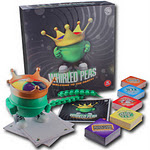 Savannah, Georgia (PRWEB) April 30, 2012
After a blistering 3 years of a down economy, many families seem to be looking for an economical way to escape the doldrums that have worn us all down and a family vacation within a few hours drive from home is a perfect way to plan an escape.
There is no better way to create long-lasting family memories for your summer vacation than to include a perfect party game like Whirled Peas! Whirled Peas is an action packed, all play game that leaves no player out. Your family will be rolling over in laughter and have wonderful memories of their summer staycation!
The producers of Whirled Peas Game have identified their top 5 destinations for fun, frugal and fantastic activities sure to please even the most picky traveler!
# 5. Mount Ranier National Park
Just a couple of hours north of Portland Oregon, you begin to get a sense of being far removed from civilization and out in the wilderness once you exit the interstate and head east into the park. A winding mountain road takes you through a dense forest and the destination of the historic National Park Inn is a rewarding experience. The public areas and cozy fireplace provide the perfect setting to gather the family for a fun game after a day of hiking the gorgeous trails.
#4. Great Smokey National Park, Gatlinburg Tennessee
Only 2 hours from Ashville, North Carolina, Gatlinburg and the surrounding counties offer many selections of family friendly cottages and campgrounds perfect for a mountain getaway. Fantastic daily adventures include hiking, biking, fishing, cave exploration and white water rafting. Our favorite choice is a day at Dollywood where thrilling rides and an extremely friendly staff make for wonderful family memories. Back at the cottage, brew some tea and pop some popcorn for family game night!
#3. Saugatuck, Michigan
A mere 2 hours from Chicago and Detroit, this bedroom Lake Michigan Community offers peace, serenity and mostly cool summer nights. This is an ideal summer escape to gather friends and family for a raucous party game! Open air cottages, fireflies and candlelit deck parties add to the experience your family will always cherish.
#2. Fernandina Beach, Florida
Old fashioned Florida charm dominates in this seaside community where long lazy beach days give way to exciting fun evening activities. While listening to the waves crash against the beautiful empty beachfront, have everyone come out on the deck, pull up some chairs, pour some boat drinks and play a party game like Whirled Peas!
#1. Tybee Island, Georgia
Twenty minutes from gorgeous Savannah Georgia, Tybee is the quintessential shabby CHIQUE beach town. Graceful early 1900's cottages filled with many rooms and wrap around screen porches dominate the accommodation inventory. Gathering friends and family is an annual affair and along with the fine old Savannah families, new visitors are always welcome. Take the family game night memories - but please leave only your footprints behind.
As you plan your trip, include a stop by Barnes & Noble to pick up a copy of Whirled Peas Game