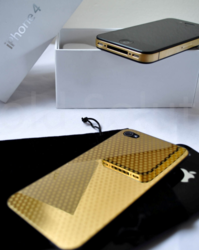 Posh Boys toys
(PRWEB UK) 30 April 2012
With the emergence of many 'posh boys' in the media, Gold Solutions have produced the perfect package to suit their needs. As the culture of 'if you're in the club - you're in' begins to prosper, the opportunity to provide products and services to suit those trends has been created.
Although Gold Solutions standard diy home gold plating kits are now well established in the UK and mainland Europe, they have always kept ahead of the market with their innovative approach to selling business opportunities to anyone looking to generate an income. In recent years there has been a greater emphasis on how ordinary people can earn just a bit more each month to keep afloat, and this is where they have benefited most.
After much discussion in the national press about this growing culture, they have now decided to produce a specific product designed to appeal to the stereotype perception of what a 'posh boy' would want. Whilst the basic product remains similar to the products in their range, the difference is to be found in the upgrade option to that package. Anyone seeing what the upgrade offers will instantly understand why it has been made available.
They are assuming that the allure of the optional extras will be irrissistable to anyone who qualifies and have therefore decided that those less fortunate are to be the real beneficiaries of any such sales.
Terry George, creator of Gold Solutions, has said "There are few people who applaud what these people stand for and this particular package highlights why - especially the upgrade option. We have spent many years creating the widespread interest in what we do, and which is now taking on a life of its own, but this particular package may well be just following a current trend.
The more the attitudes of these so called 'posh boys' (and presumably girls) are highlighted, the more they have a chance of being 'persuaded' to actually start acting for the benefit of others instead of themselves and their 'chums'. If this package goes some way to achieve this then we will be happy".
In order to place the package into a worldwide forum Gold Solutions have decided to put it exclusively on a well-known auction site, which can be found here.
They have also stated that any profits made from anyone taking up the optional upgrade will be donated in full to a nominated charity. Surely an offer that even a 'posh boy' could not refuse.
Anyone not familiar with the term 'posh boy' should go to here to find out more.