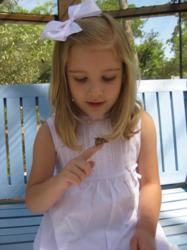 "Our goal for the day is to educate the community on the important role that public gardens play in promoting education, environmental stewardship, water conservation and green spaces."
Wilmington, N.C. (PRWEB) April 30, 2012
One of North Carolina's premiere coastal gardens will celebrate National Public Gardens Day (NPGD), held this year on May 11, in a big way. Airlie Gardens will host several free events for the public including the seasonal opening and tours of its Butterfly House, commissioning of new artwork by a world-renowned artist, a bird hike, extended hours, giveaways and more.
The American Public Gardens Association (APGA) and Rain Bird created NPGD in 2009 to raise awareness of public gardens and their critical role in today's environment, education system and cultural world. Each year, more than 500 botanic gardens, arboreta, educational gardens, farm gardens, historical landscapes, zoos, museum gardens and other APGA members will mark the holiday in their own unique styles, inviting thousands of visitors to explore these local gems.
In Wilmington, Airlie Gardens will celebrate with several free events and with extended hours. In addition to a guided bird hike through the gardens and drawings for Airlie memberships and tickets to the renowned summer concert series, Airlie will also launch a popular display and celebrate the commissioning of a new piece of artwork for the gardens.
Airlie's Summer Takes Flight display is a seasonal native butterfly exhibit housed in the 2,500 sq. ft. screened Butterfly House, open daily and free with regular garden admission (which is waived for NPGD). Guests will see several different species of butterflies including the Painted Lady, Gulf Fritillary, Red Admiral and more.
The Butterfly House also is laden with plant species that Airlie horticulturists have specifically tailored to serve as the butterflies' thriving habitat. The Summer Takes Flight Display will open for the season during the May 11 festivities. Guests may tour the Butterfly House on NPGD during two scheduled times.
Another special addition to the event is the commissioning of a beautiful piece of artwork by renowned artist Andy Cobb, a local sculptor that has been working with the medium of sheet copper for more than 20 years. Local favorites by the artist include a six-foot frog with surfboard at Wrightsville Beach, a frog mowing the grass at Lumina Station and the flying blue herons in the Waterford of the Carolinas fountain. Cobb will donate a custom piece – a child frog chasing butterflies with a flowing butterfly net – to the Butterfly House in honor of National Public Gardens Day.
"Our goal for the day is to educate the community on the important role that public gardens play in promoting education, environmental stewardship, water conservation and green spaces," said Jim McDaniel, director of Airlie Gardens. "The mission of Airlie Gardens is to be a historic public garden with cultural and environmental education for the residents and visitors of New Hanover County. National Public Gardens Day is a perfect opportunity to visit and explore the unique and magical environment of Airlie Gardens and enjoy the rich history that can be found in every acre of our 'gardens by the sea.'"
Since its gates opened in 1901, Airlie Garden has become a critical cultural and ecological component of North Carolina's history. This gorgeous acreage is not only home to the popular 468-year old Airlie Oak, more than 100,000 azaleas and the acclaimed Minnie Evans Bottle House, but has also played host to the annual North Carolina Azalea Festival and dozens of films and television series, including Dawson's Creek and One Tree Hill, ABC Family's A Cinderella Story, HBO's Eastbound and Down, major motion film Bolden! and many more.
###
Airlie Gardens is a 67-acre public garden located in Wilmington, North Carolina. Established in 1901, the garden is a cultural and ecological component of New Hanover County and North Carolina history that features formal gardens, wildlife, historic structures, walking trails, sculptures, views of Bradley Creek, 10-acres of freshwater lakes, the celebrated 468-year-old Airlie Oak, more than 100,000 azaleas and countless camellia cultivars. The garden is made possible with the generosity of public grant funds, the commitment of the New Hanover County Commissioners, and the previous owners the Corbett Family, as well as, support of local residents. For information about Airlie Gardens, visit airliegardens.org.