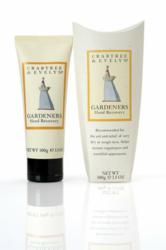 Glens Falls, NY (PRWEB) April 30, 2012
Using harsh soaps, drying anti-bacterial gels, and lack of moisturizing can quickly show age and wear on your hands. This can result in dry, itchy, hard, scaly, and cracked skin if not properly cared for. Crabtree & Evelyn Gardeners collection is designed specifically to restore and bring new life to weathered hands and carries a fragrance that consists of fresh green clover, lavender, sage rosemary and thyme.. Crabtree & Evelyn is most known for their famous two step "Hand Therapy".
Step one begins with Gardeners Hand Recovery, an exfoliating, moisturizing, and conditioning all in one step. Apply about a pea sized drop of product to the back of one hand. Work the product on dry hands for at least 60 seconds, ensuring that you use enough pressure to exfoliate and remove dead skin cells. Pay special attention to knuckles, cuticles around fingernails and between fingers. Once 60 seconds of scrubbing has concluded, rinse of hands and make sure any remaining grittiness gets washed off. Hands should feel refreshed and moisturized. Best practice is to pat dry with a towel instead of scrubbing hands dry which could irritate the newly revealed skin.
The second step is the Gardeners Hand Therapy, a shea butter rich formula that soothes and conditions. Following up step one with a Hand Therapy treatment is critical to achieve the maximum softness and conditioned feel. In the days following, reapply the Hand Therapy to your hands at least twice a day to retain maximum suppleness.
The Hand Scrub with Pumice is perfect for those who garden and get their hands dirty. The gentle cleansing scrub is formulated with soothing comfrey herbs. Two sizes of ultra-fine pumice work together to gently lift soil from hands and nails, leaving hands ready for moisturizing.
Kerry Lyn's Boutique is located in Aviation Mall, Queensbury, NY 12804 and currently offers Vera Bradley, Crabtree & Evelyn, Baggallini, Harveys Seatbelt Bags, Bluewick Candles and some jewelry. The boutique reaches to customers in Glens Falls, Lake George, Hudson Falls, Ticonderoga, Warrensburg, Bolton Landing, Fort Ann, Saratoga Springs, Malta, Lake Luzerne, and other surrounding areas. Follow Kerry Lyn's Boutique on Facebook and Twitter for some great in-store and online deals. They also have a newsletter that you can sign up for to be notified of any specials, promotions and giveaways as well.