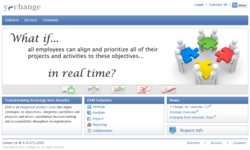 Y-Change's Enterprise Strategy Management (ESM) Solution helps organizations to overcome their "strategy gaps" by turning strategies into results.
Highland, UT (PRWEB) April 30, 2012
Strategy-Keys.com, a website that provides insights and best practices in Strategy and Execution, reported today that:
"Y-Change, the leader in real-time 'Enterprise Strategy Management' (ESM) software solutions, recently announced the launch of version 7.2. This version includes key enhancements to its strategy and portfolio tracking, dashboards and timesheet features."
Y-Change provides an impressive integrated product suite that ties strategies to objectives, integrates portfolios and projects and drives coordinated decision making and accountability throughout an organization. When officers, managers, and employees are together "on the same page", they all contribute to the success of the strategic goals.
The New 7.2 Features Include:
.
Portfolio Management Enhancements

Prioritizing, selecting, and reporting projects from idea generation to execution
Work flow management, phase gates and approval signoffs
Project Management Enhancements
Project charter templates with analytics based on user defined fields and formulas
Project and user time tracking
Reporting Enhancements
Easy customizable and configurable reports and graphs with "double click" cell updating
Saving reports and uploading to applications such as excel, pdf, ppt, print
Other Enhancements
Additional "Out of the box" custom reporting capabilities for transparency and accountability
Customizable screens for both infrequent users as well as heavy users
Additional functionality on user home pages, allowing for time tracking & better project portfolio visibility
Contact Alan Leeds at 510-573-2205 or aleeds(at)y-change(dot)com to learn more about the new Y-Change ESM features
ESM Standard Features Include:
The Strategy Manager
Solution enables organizations to integrate, align and manage all strategic, tactical and performance information. Organizations can support all strategy and initiative management processes, including Hoshin, OGSM, and VSE.
Each department or area can organize, manage and link their strategies, objectives, initiatives and tactics to all programs and projects throughout the organization.
Executives and managers can easily create and update dashboards and performance metrics, with simple double clicking to edit information, in accordance with company security procedures. Additional resources, including meetings, metrics, documents and action logs are easily available.
Portfolio Manager
Executives and managers can select, plan, manage and track a portfolio's life cycle from idea to execution. The ESM portfolio tracker allows individuals to setup and track the stages of a portfolio, as well as linking and reporting on those selected projects in that portfolio.
The rules engine allows for quick phase gate approvals, emails, and prioritizing of projects for selection or re-sizing.
An organization can easily view the metrics of their portfolio, as well as (what) the objectives and initiatives they are supporting.
Project Manager
The ESM enables organization to align, track, manage, and account for decentralized teams collaborating on a variety of programs. Individuals can improve project workflow by collaborative scheduling while aligning projects to objectives and initiatives in an intuitive manner.
Many features such as Gantt charts, risks, deliverables, phase status, heat maps and custom dashboards allow for company-wide visibility and expeditious reporting.
Organizing projects around user specified project types allows for customization of information specific to the needs of each organization or project.
Whether one needs a simple project reporting tool, or a detailed phased based six- sigma or product development management system involving customized charter elements , financial and metrics requirements, the ESM can do both.
No need for additional support…all features are configurable by the user
Report Manager
Organizations can easily create, save and export unlimited cascading and filtered initiative, portfolio and project reports and dashboards.
Results will flow from top management through the organization, showing the tactics, timelines, and action items.
There are unlimited reports, with customized filters that can be generated with the report wizard.
Reports have on-line editing of the data ideal for monthly or quarterly reviews and updates.
Dashboards can be easily created, saved, emailed and exported to one's favorite desktop application.
Collaboration
Y-Change helps connect employees and teams through real-time threaded discussions, status reporting, actions and meetings.
It integrates with MSOutlook for seamless sending of automatic emails for selected timeline, deliverables, action items, meetings and phase gate events.
Documents can be stored in the repository with check-in, version control and key word search, or can be connected to existing applications such as internal file share drives and MS Sharepoint
Y-Change can do an on-line search by all key topics and document key words and employ threaded discussions and action log updates that are provided in the strategy and project portions of the tool
All objectives, initiatives, and projects can be linked or hyperlinked and cascaded, allowing for transparency of information and linkages of activities throughout an organization's departments and levels.
About Y-Change
Y-Change, Inc. was built on the premise that companies will succeed best when their organization's goals and objectives are cascaded and tied directly to specific programs and projects.
Established in 1998, their online management tools have been designed to take advantage of the Internet using original applications at the forefront of web-based technologies, creating the "edge" necessary to succeed in today's volatile market. Learn more at Y-Change.com
Contact Alan Leeds at 510-573-2205 or aleeds(at)y-change(dot)com to learn more about the Y-Change ESM