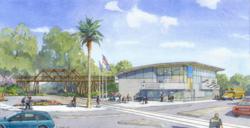 We would like to honor your contribution by including your name there among those who we are recognizing as our most generous contributors." - Allison Alexander, Vice President National Marine Sanctuary Foundation
Santa Cruz, CA (PRWEB) April 30, 2012
Owner of Santa Cruz Sea Glass, Krista Hammond received official news recently that her company along with a select hand-full of others will be honored as generous contributors to the building of the new Monterey Bay National Marine Sanctuary Exploration Center in Santa Cruz, California.
Allison Alexander, Vice President for the National Marine Sanctuary Foundation writes "We would like to honor your contribution by including your name there among those who we are recognizing as our most generous contributors." Slated to open its doors to the public this summer, it will be the new flagship science center for the National Marine Sanctuary Foundation, focusing on the conservation of the Monterey Bay Marine Sanctuary. Hammond, whom approached the Foundation in 2008, is in fact the very first business to donate to the cause by officially becoming a partner with the Foundation.
Since then, Krista and her company Santa Cruz Sea Glass; which makes hand-crafted custom sea glass jewelry using pieces of washed up sea glass that she and her husband find along the Monterey Bay shoreline. Krista says, "I have always wanted to give back to the ocean that has given me so much. This is such a great way to protect and conserve our Marine Sanctuary through donating a portion of our sales and proceeds from our Santa Cruz Sea Glass & Ocean Art festival held each November in Santa Cruz. I am the one whom is honored to be a part of such a great thing as the new Exploration Center."
To purchase a piece of sea glass jewelry or to learn more, you can visit their website or see them in person at the upcoming Mountain View Art festival May 5 & 6th.