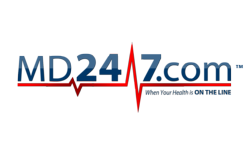 Telemedicine Today!
Tampa Florida (PRWEB) April 28, 2012
Well known telemedicine provider has a proven track record of adding supplemental programs to their trunk full of services offered to their telemedicine program members, typically at little to no extra charge. Previous supplemental programs added under the MD247 telemedicine program include products to protect personal identity, as well as products like Pet Assure which is aimed at maintaining the health of the family pets. According to an announcement made on Saturday April 28th, MD247 is currently screening discount car care programs for their potential addition as a supplemental program under the "MD247.COM" flag.
MD247 prides itself on maintaining a constant state of evolution for all of its telemedicine programs, through the addition of programs intended to supplement and improve the telemedicine services. The goal is to build a sense of value, in which the telemedicine consumers understand that they are being provided a service packed to the point of bursting the seams of its defined business parameters. The telemedicine provider also makes certain that supplemental programs are available to ALL telemedicine program members, never looking at the sign-up date of a program member to determine if they will benefit from the latest corporate partnership MD247.COM has negotiated. All MD247.COM program members are contacted directly by telephone whenever a new service is added, ensuring that the improvements made to the telemedicine program does not go without being used by telemedicine program members.
MD247.COM hopes to be able to use the discounted supplemental programs to eventually be able to modify the price of membership in the telemedicine program downward.
MD247.COM (MD247; MD24/7; MD/247; M.D. 247; MD 247) is a Largo Florida based telehealth healthcare service provider. In addition to telehealth services, MD247.COM provides discounted pharmacy programs, discounted "in person" healthcare visits and discounted veterinary services for the four-legged family members. MD247.COM can be located online at http://www.md247.com, can be contacted by email at cs(at)md247(dot)com or can be reached by telephone at 866-232-1343.