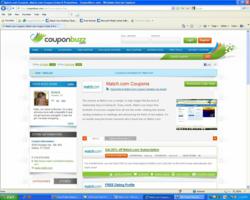 The charm of our website is that an individual only has to go one place to get great coupons that can save them money in every area of their life.
Houston, TX (PRWEB) April 29, 2012
CouponBuzz.com recently launched a special section of their website dedicated to Match.com coupons and special offers. The new web page is getting attention from blogs and publications industry wide, as are the coupons, which offer users 20% off a subscription or a free dating profile. While it might seem a bit unusual for online shoppers to utilize the same website to get a discount on a new laptop, a great pair of shoes and enrollment in an online dating service all at the same time, this is precisely what attracts consumers to CouponBuzz.com.
"One of the reasons CouponBuzz is such an appealing site for busy online shoppers is how widespread our offerings are," explained Justin Bowen, a representative for CouponBuzz.com. "We feature coupons for high-end technology like laptops and flat panel TVs to women's apparel coupons, baby stroller coupons, and, yes, online dating services coupons. The charm of our website is that an individual only has to go one place to get great coupons that can save them money in every area of their life."
CouponBuzz.com strives to provide an incredibly simple, streamlined approach to online coupon shoppers. They provide a search bar for individuals looking for specific coupons and coupon codes for easy lookup. Site visitors can also search by specific store or merchant. Their most popular merchants have individual web pages, like the one for Match.com coupons, where all of the available offers are listed. In addition, users can search by specific categories to view all available coupons in a general area across a variety of merchants, like 'jewelry & watches' or 'wedding.'
Each coupon is accompanied a Buzz Score rating from 1-100, as well as text describing how to use the coupon code or access the special offer. For example, the Match.com coupon for a 20% off a subscription to their online dating and relationship service has a Buzz Score of 90. This indicates to a user that the Buzz Guide gives the offer a high score for the savings it generates, and its general attractiveness to users. Users can see all of the Match.com offers and view an example of a merchant-specific web page at http://couponbuzz.com/match.com-coupons.html