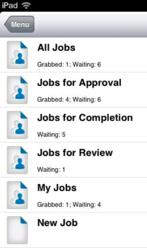 We're not porting the SharePoint experience to mobile, we're offering a whole new task-oriented mobile experience that is easier, smarter, more beautiful, more powerful.
Mercer Island, WA (PRWEB) April 30, 2012
Formotus, Inc., announced today the live availability of new workflow and collaboration features in its mobile business application platform for iOS and Android. Formotus makes it possible for organizations to create and deploy custom mobile business applications built around Microsoft® Office InfoPath™ forms. The new feature set announced today enables companies to implement flexible collaboration frameworks with robust forms that can be routed and shared among mobile users in a wide variety of ways. Formotus mobile workflow forms require no SharePoint modifications and work with any version including on-premises, hosted, and Office 365 SharePoint Online.
All Kinds of Collaboration Supported
The new mobile workflow forms announced today will open up a whole new range of possibilities by supporting scenarios such as these:
Process Workflow. Complex multi-step workflows can be defined around a company's business processes. A request form, for example, might be routed to various people for approval, completion, verification, and archiving.
Social Collaboration. Flexible workflows can be created that empower mobile users to drive the success of a project. Jobs can be assigned and reassigned to individuals or groups, or each mobile user can choose which job to grab next – and SharePoint check-out protocols prevent two users from grabbing the same job.
Field Dispatch. The essence of dispatch is the need to let a mobile workforce know where to go, when to go, and what to do there. Workflow forms can be designed so that a dispatcher enters that information in a form first, then assigns it to someone else to do the job and complete the form with data collected at the job site.
Mobile Workers Shielded from SharePoint Complexity
The experience for the user of Formotus mobile workflows is unlike that of using SharePoint in a browser. The Formotus mobile user doesn't have to deal with the sometimes confusing concepts of sites, sub-sites, lists, libraries or views. And there is no searching or site navigation required, because Formotus mobile users simply grab jobs assigned to them with no need to figure out where online that information resides.
"SharePoint is becoming ubiquitous in all kinds of organizations," according to Formotus CEO Adriana Neagu, "and we leverage SharePoint data connections in our mobile apps. But we're not porting the SharePoint experience to mobile, we're offering a whole new task-oriented mobile experience that is easier, smarter, more beautiful, more powerful. The fact is, a person using our platform on an iPad or Android tablet, won't be able to tell that there is any SharePoint behind the workflow."
About Formotus
Founded in 2005, Formotus invented the leading technology platform for creating custom mobile business forms that connect tablets and smartphones to SharePoint. Without writing a single line of code, companies can deploy custom mobile solutions for field service, inspections, dispatch, delivery, health care, and more. Formotus offers rich native applications that work well offline for data collection – including signature, photo and GPS capture – and connect online to live business data. Users can design cross-platform mobile applications once in InfoPath, and deploy them anywhere from the cloud as XML-based Formotus form applications.
Formotus is building a worldwide ecosystem of partners who can help our customers with training, support, hosting and consulting services around InfoPath form design, SharePoint implementation, business process management, and more. Learn more about becoming a Formotus partner.