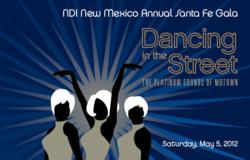 Santa Fe, NM (PRWEB) April 28, 2012
In Santa Fe, New Mexico, over two weekends, Saturday April 28th and Thursday, May 3rd through Saturday, May 5th, a total of 1,000 children from National Dance Institute New Mexico public school classes will dance to Motown hits – the best of the best dancing to the best. The event is featured on the Santa Fe visitor guide SantaFe.com's event calendar. The last performance is the Gala Performance at 5:30 p.m. which will be followed by a cocktail reception, dinner, dancing & entertainment in the big tent. This year's Gala is Honoring Dr. George Cowan. The Gala Performance and Dinner Dance tickets are $225.
Performances Scheduled are as Follows:
Saturday, April 28 • 3:00 p.m. - 5:00 p.m.
Saturday, April 28 • 5:00 p.m.- 7:00 p.m.
Thursday, May 3 • 6:00 p.m.- 8:00 p.m.
Friday, May 4 • 5:00 p.m.- 7:00 p.m.
Friday, May 4 • 7:00 p.m.- 9:00 p.m.
Saturday, May 5 • 2:30 p.m.- 4:30 p.m.
Saturday, May 5 • 5:30 p.m.to be followed by a cocktail reception, dinner, dancing & entertainment in the big tent.
Ticket Info:
Purchase Tickets Online or by phone at 505-983-7661
General Admission: $10-$15
Gala Ticket: $225
By phone at 505-983-7661 or in person at The Dance Barns Box Office, Monday-Friday, 3 – 6 p.m.
Sponsorship Opportunities For The Event Include:
$50,000 Impresario
$25,000 Producer
$10,000 Director
$5,000 Choreographer
$3,000 Conductor
$2,500 Designer
$1,500 Entertainer
The event is offering a raffle with tickets available at the following prices including $75 per ticket, 5 tickets for $250 and 10 tickets for $500. The following prizes for this events raffle are being drawn for on May 5th.
Grand Prize – Seven Day Holiday in Paris
Once in a lifetime opportunity in Paris for up to six people to stay in an historic and impeccable Parisian apartment for a full week! This apartment in the Saint Germaine des Près district is just blocks from the Louvre, Musèe d'Orsay, Musèe Rodin, fabulous restaurants and the Seine! This package includes round-trip airfare for two from Albuquerque Sunport to Charles De Gaulle Airport, and accommodations for seven days at this exclusive Left Bank apartment!
Second Prize – Weekend Chama Getaway at The Lodge and Ranch at Chama Land & Cattle Company
It's more than just the Lodge, even though the 27,000 square foot Lodge at Chama is one of the premier Personal and Corporate retreats in the world. Package includes two nights lodging for two (one room) with one day of activities for two, which includes the choice of one or more of the following: fishing, hiking, sporting clays, ranch tour, wildlife viewing and photography. Meals and complimentary bar included.
Third Prize – Date Nights in Santa Fe for a Year
Experience Santa Fe's premiere restaurants with monthly date nights and dine your way through the year! Enjoy 12 months of extraordinary dinners for two at the most talked about culinary destinations in Santa Fe such as; Ristra, Aqua Santa and Galisteo Bistro. Finish off one of your evenings by spending the night at Encantado Resort and enjoy breakfast for two! Reservation dates and times are to be selected by winner using gift certificates awarded.
*Drawing held on May 5, 2012. Need not be present to win. Winners are solely responsible for paying and reporting, as and when required by law, all income taxes and any other taxes and expenses attributable to the prize. Travel vouchers and certificates are subject to space availability, capacity limitations and other applicable restrictions at the time reservations are made. Legal information.
About National Dance Institute of New Mexico:
NDI New Mexico is founded with the knowledge that the arts have a unique power to engage and motivate children. The purpose of our distinctive programs is to help children develop discipline, a standard of excellence, and a belief in themselves that will carry over into all aspects of their lives. NDI New Mexico programs reach more than 6,600 children annually in urban, rural and Native American communities throughout the state. Visit http://www.ndi-nm.org.
About SantaFe.com
SantaFe.com provides locals and visitors to Santa Fe alike the most current interactive platform for events, music, arts, business, dining and lifestyle. SantaFe.com is a division of Hutton Broadcasting, located at 2502 C. Camino Entrada, Santa Fe, NM 87507
Contact Information:
Scott Hutton
SantaFe.com / Hutton Broadcasting
http://www.santafe.com
(505) 471-1067 (Media inquiries only, please)