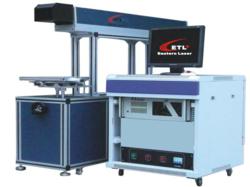 (PRWEB) April 29, 2012
Long waited CMT-60 laser marking machine is finally finished by Eastern Laser at the end of this month and is available on the market for sale. The CMT-60 is currently the best laser marking machine for "laser mark wood", and also has an ideal laser marking effect on wood, paper, leather, cloth, Plexiglas, epoxy, acrylic, unsaturated polyester resin and other non-metal materials.
CMT-60 laser marking machine employs the new laser marking system developed by China premier laser machine manufacturer Eastern Laser. The CMT-60 adopts the industrial standardization module design, full set of imported metal sealed radiation frequency CO2 laser, high speed scanning vibrating lens, extending focusing system, high stability anti-intervention industrial computer system, and high precise vertical up-down working table. CMT-60 laser marking machine can work for 24 working hours continuously with high stability, high precision, and high speed. The marking software is based on win98/win me operational software, which is easy to operate and has won good feedback from customers.
CMT-60 laser marking machine main features:
Originally imported USA CO2 radio frequency metal laser tube and laser power supply;
Originally imported marking software and scannerlLens, adjustable laser power is controlled by software;
Low processing cost, no consumable materials;
Large marking area;
High cutting speed, engraving low or deep can be adjusted freely;
Suitable for all kinds of precuts;
Easy operation and human friendly controlling panel
Technical information of the Etlaser CMT-60:
Wavelength: 10.6um
Laser power: 60W
Output stability: 8h:±5% / 10%
Marking area (optional):100x100mm,175mm×175mm,300mmx300mm
Working distance:245mm±2mm
Marking speed:≤3m/s
Marking depth:≤5mm / ≤8mm Min. Line width: 0.12mm
Min. character size: 0.6mm
Repetition accuracy:±0.01mm
Supply voltage: 220V/10A / 220V/20A
Power consumption: 2kW / 4kW
Operation temperature: 15℃~30℃
Working Humidity: 45%~75%
Marking graphs: User-defined character, CAD data, BMP, JPG, PNG, TIF, PCX, TAG, IOO, GIF, and PLT