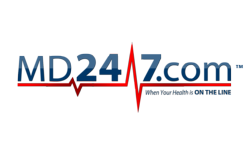 Learn more about telemedicine.
Tampa Florida (PRWEB) April 29, 2012
Telemedicine and telehealth specialist MD247 released a special statement to skeptics regarding the subject of telemedicine on Saturday evening. The special statement touched on some hot button issues regarding both telemedicine and telehealth, going into detail regarding the steps that a responsible telemedicine company takes in educating program members.
MD247 explained that telemedicine is the use of telecommunication and information technologies in order to provide clinical healthcare at a distance. On the surface, the term "telemedicine" appears to be rather clinical and that fact turns a lot of average people away from telemedicine before they ever discover the positives of being able to talk to a doctor at any time. The reality that telemedicine is so mired in the technical babble makes the job of a telemedicine specialist all the more important, the MD247 blog and social media accounts are designed specifically to carry the first-person brand experience from member calls with Customer Care across. The goal is to give each reader a "look behind the curtain," so that everyone has the opportunity to determine the ins and outs of telemedicine and can read about it in terms of real life scenarios.
Creating an atmosphere of customer safety has been an objective of MD247 since its founding but, as with any revolutionary program based on technology, telemedicine has often been met with skeptics. This has required sweeping modifications to the classic customer care model, including a policy allowing telemedicine program members with concerns the direct dealings with the MD247 telemedicine senior Customer Care staff. In addition to substantial modifications made to the Customer Care policies, MD247 also added a "WellCare" Department for the express purpose ensuring that all members of the telemedicine program properly understand the benefits and are utilizing all benefits. The overall environment for first-person telephone contact is meant to provide a professional, yet layman look at the world of telemedicine.
When carried across to the MD247 telemedicine blog, and the MD247 telemedicine social media, the message MD247 wants people learning about telemedicine is that it is completely impossible to understand telemedicine at first glance. It is a matter of pulling the puzzle pieces together, allowing a friend in telemedicine to answer your questions and working through final decisions with ALL of the knowledge. The MD247 Team is that friend.
MD247.COM (MD247; MD24/7; MD/247; M.D. 247; MD 247) is a Largo, Florida based telehealth healthcare service provider. In addition to telehealth services, MD247.COM provides discounted pharmacy programs, discounted "in person" healthcare visits and discounted veterinary services for the four-legged family members. MD247.COM can be located online at http://www.md247.com, can be contacted by email at cs(at)md247(dot)com or can be reached by telephone at 866-232-1343.