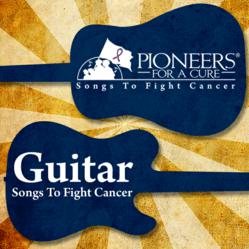 It's always satisfying to record a song that's going to raise funds to fight cancer
New York, N.Y. (PRWEB) April 30, 2012
Everyone knows someone with a cancer story or has already lost someone close to them. Pioneers For A Cure - Songs To Fight Cancer has enlisted over 100 artists to record new versions of classic public domain songs to allow their fans to support them while joining this noble battle against the world's leading killer. Cancer knows no boundaries, no borders, no limits on language. Pioneers For A Cure has a worldwide catalog of pioneer music. The proceeds from the donations for these songs goes to the many cancer charities selected by the artists themselves.
'Guitar Songs To Fight Cancer' is now live on iTunes and available here. "It's always satisfying to record a song that's going to raise funds to fight cancer" said the projects' music producer Greg Wall.
Pioneers For A Cure's new Facebook campaign is 'I LIKE to fight cancer'™. Each LIKE that Pioneers For A Cure receives on its Facebook page until July 4th will cause $1 to be donated to the cause. Hundreds have already visited and clicked LIKE to cause a $1 to fight cancer. Discover your favorite artists today who are donating their time and talents to fight cancer and support them by clicking LIKE and donating to download a song.
Pioneers For A Cure - Songs To Fight Cancer is the largest showcase of cancer charities on the web. Called '[A] stellar model of artist-driven grassroots philanthropy' by National Geographic, the non-profit project records public domain songs, reinterpreted and made available for donations of as little as $1.99. This treasure trove of over 100 songs has been recorded by dozens of artists from around the world including Suzanne Vega, Ben E. King, Tom Chapin, Tom Verlaine, Matt White and David Broza. Fine artist Mira Sasson has painted the Pioneer Portraits of the singers, which are made available as US Postage Stamps to fight cancer. Proceeds from song downloads are donated to artist-selected cancer charities such as the American Cancer Society, St. Jude Children's Hospital, the Breast Cancer Research Foundation, and Susan G. Koman for the Cure.