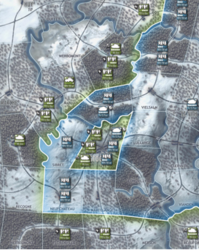 ...it's about time that iOS got a serious wargame experience.
Philadelphia, PA (PRWEB) April 30, 2012
Over 250 fans from the gaming community all over the world have pledged support for the development of Shenandoah's first title, a simulation of the historic Battle of the Bulge.
Battle of the Bulge, by award-winning designer John Butterfield, is a divisional level recreation of Hitler's offensive to crack the Allied lines in December, 1944. The game is tense, turn-based, and faithful to history: a classic gaming situation with a surprise attack, desperate defense, and bold counterattack. The game play is quick and the strategy deep.
Comments from early backers show the game's appeal:
"...it's about time that iOS got a serious wargame experience."
"I can't describe how excited I am for this game. It looks beautiful and deep."
" Finally getting some good wargames for the iPad..."
" The graphics that I have seen are fantastic. Where do I place my order?"
Top gaming and Apple commentary sites have picked up news of the campaign, which will run until May 28. Shenandoah has posted an update hinting at stretch rewards when the funding goal is reached.
Veteran game designer Eric Lee Smith founded Shenandoah Studio to publish top quality strategy games on the iPad, in the spirit of classic board games. Shenandoah's team of designers, developers, and artists collectively bring 160 years of experience to the enterprise.