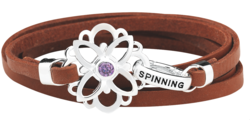 Spinning Jewelry brings a different take on the classic concept of the charm bracelet.
New York, NY (PRWEB) April 30, 2012
A Silver Breeze is extremely excited to add the Spinning Jewelry line to their collections! The Spinning Jewelry line offers a wide variety of earrings, rings, charms, and bracelets that can be mixed and matched to create new looks and styles as unique as you!
Spinning Jewelry was founded 1985 in Denmark, with the vision of creating genuine high quality jewelry with a special concept that made the jewelry totally versatile and unique, for the fashion conscious woman! Spinning Jewelry has since taken off and become a worldwide popular jewelry brand. Now this one-of-a-kind jewelry line is available in the United States and A Silver Breeze is proud to offer it to their clients.
All the jewelry from the Spinning line is inter-changeable and flexible to create new looks and styles. The stack style rings come in many colors and styles allowing for endless possibilities of different looks for all occasions. There is also a wide array of earrings available that match and compliment the rings and charm collections.
What truly makes the Spinning Jewelry line special is their charm bracelet collection. It's a different take on the classic concept of the charm bracelet. The bracelets start with a leather or sterling silver extension. From there you simply add the charm of your choice with a link lock to seal the bracelet. The charm acts as a link between both ends of the bracelet, making it truly unique and totally versatile for special occasions or a casual day.
Check out all the jewelry collections from Spinning Jewelry at the A Silver Breeze store or online at: http://www.asilverbreeze.com, and start creating your own unique and exciting jewelry pieces today.
About A Silver Breeze
A Silver Breeze was founded with a philosophy in mind: give women the freedom to be themselves and embrace a sense of style that's unique to each woman. A Silver Breeze offers women quality sterling silver jewelry that is interchangeable, like the Kameleon, Chamilia, Miss Chamilia, Bijoulee and the new Spinning Jewelry collections.
Stores are located at the Aviation Mall in Queensbury, New York, at the Wilton Mall in Saratoga, New York, and online at: http://www.asilverbreeze.com. Be sure to browse the online store to see all the available collections. Free shipping is available anywhere in the USA. A Silver Breeze ensures every customer's shopping experience will be an unforgettable one.