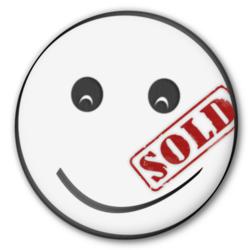 We've never given a presentation to this many people before, so we're a little nervous, but mostly excited.
(PRWEB UK) 29 April 2012
BuyMyFace.com has been growing since it started on 1st October, and has recently found itself on the front page of the Sunday Times. With news coverage like this, it's no wonder Ross Harper and Ed Moyse, 22, who co-founded BuyMyFace.com, are in high demand for a flurry of enterprise conferences this Spring. The first of these is the Startup Career Launchpad, taking place on 4th May at the Google Campus in London.
The Startup Career Launchpad is run by NACUE (The National Association of College & University Entrepreneurs), and is the first of its kind in the UK. It aims to bring together 150 students and graduates to provide them with the skills and insight needed to launch their startup careers. The event runs all day, and Ross and Ed will be delivering a 45 minute presentation about their cheeky business.
"I stumbled across BuyMyFace.com when booking speakers for The Startup Career Launchpad. Given the doom and gloom that surrounds graduate prospect stories these days, Ross and Ed are really proof that thinking outside the box works. And that's why I'm bringing them down to speak - you can't get better self-branding than this!", Jonathan Young, NACUE
"We're delighted and pleasantly surprised to be speaking alongside some of the key players for the UK startup industry", Ross Harper
"We've never given a presentation to this many people before, so we're a little nervous, but mostly excited", Ed Moyse
As well as other UK-based conferences, Ross and Ed have been invited to Norway to speak at an enterprise conference run by Microsoft Norway. The event is aimed at students, and Ross and Ed will once again be sharing their experience of launching a startup straight out of university.
While Ross and Ed rehearse speeches and travel around the world to deliver them, the story of their quirky advertising venture continues to spread. Within the last month, BuyMyFace.com has received news coverage across Europe, the USA, Canada, South America, Australasia and Asia.
"BuyMyFace.com is the story of two Cambridge graduates trying to pay off their student debt by selling advertising space on their faces. We know it's weird, but that's part of the charm, and it's one of the reasons our story has spread so far", Ross Harper.
"With this news interest comes high volumes of website traffic to BuyMyFace.com, which is obviously good for us, but our servers were overloaded, and crashed for a few hours in April. Fortunately someone from HostPapa.co.uk noticed us, and as well as buying our faces, they offered to host our website as well", Ed Moyse
As well as HostPapa.co.uk, other big names advertising with BuyMyFace.com this April include YouSendIt.com and Adobe. As bigger brands continue to buy the faces of Ross and Ed, it looks increasingly promising that the boys will reach the goal of paying off their £50,000 student debt. The question now is: what next?
"We've had plans to launch something off the back of BuyMyFace.com for a while now. Without revealing too much just yet, it's safe to say that these plans are taking shape, so it's an exciting time for Ed and me", Ross Harper.