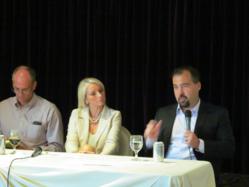 Sacramento, CA (PRWEB) April 29, 2012
The 1st annual Mortgage Insight Conference, hosted and sponsored by Comstock Mortgage last Thursday, April 26th, was a huge success. Attended by almost 100 Mortgage Industry professionals and leaders, the conference covered a diverse array of topics related to the mortgage industry, such as HARP 2.0, marketing, rates and market fluctuation, FHA changes and much more.
The conference was held in a panel style with dynamic and knowledgeable panelists – Sue Woodard, President of Mortgage Market Guide, flew out from her headquarters in Minnesota to speak at the conference, covering topics ranging from the housing market to effective marketing. David Battany, former Direcor of Fannie Mae's single-family services and now Chief Product Stategist at PennyMac, traveled from Southern California and provided helpful insight into the GSE's (Government Sponsored Enterprise), reviewing publicly available though seldom discussed reports and data. Phil Rasori from MCT Trading clarified the hedging process, and Rob Chrisman, well known industry expert, provided closing statements from his in depth knowledge and perspective of the industry.
The panel was moderated by Jeff Tarbell, Host of Talkin' Money, VP and Senior Loan Consultant at Comstock Mortgage. Tarbell extended a huge thank you to all the speakers who made this event possible. Despite demanding schedules, all were willing to take time to help educate and promote more understanding about the industry.
This year was the first year Comstock Mortgage has attempted to sponsor such a conference. Due to the enthusiastic response received, Comstock Mortgage is considering making this conference an annual conference, and with that, is contemplating the line-up for 2013.
For more information about Comstock Mortgage or the conference, please contact Angela Murray at 916-367-7101 or visit them on the web at http://www.comstockmortgage.com.