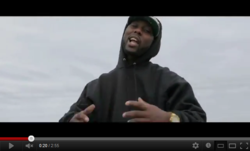 Miami, FL (PRWEB) April 29, 2012
Hip hop artist Duck recently released the official video for his single "The Other Side." Coast 2 Coast Video Distribution presents the project, which is from his upcoming debut mixtape "Unstable Mind Frame," featuring Houston legend K-Rino and the up-and-coming Bigg Fatts.
Houston's own Damien Duckworth, better known as Duck, is an up-and-coming rapper and lyricist hailing from South Park. His focus is delivering high quality music that hip hop and rap enthusiasts can relate to and enjoy. If Duck's sound comes off as hustler music, that is because it is. Even encrypted in his club bangers are anecdotes about handling money wisely, having ambition, and obtaining the American dream by attacking it from unexpected angles.
Duck's first mixtape, entitled "Unstable Mind Frame," is set to drop soon—but it doesn't follow the preset rules about how mixtapes should be crafted. Instead, it is being designed on the backbone of a unique sound that is both acoustically appealing and honest. As an artist who has been influenced by many underground hard hitters, Duck will walk away from a project prior to dropping it if it doesn't have the best possible sound quality and content.
Although "Unstable Mind Frame" will be his first released project, it is not an amateur mix tape. Duck is only working with credited professionals to ensure it is reaching its full capabilities. Most of the music, including the first released song "Weekend Money," have been mastered by native Houston platinum producer Davion Botts (DBottz). DBottz has worked with big name artists such as UGK, Z-Ro, Scarface, and Slim Thug. This seasoned touch gives Duck's sound the advantage of having professional quality sound, even though he is new to the rap scene. Duck worked with a top-notch team for the creation of the music video for "The Other Side" and has beats provided by award-winning producers like Johnny Juliano.
Duck recently won the Coast 2 Coast industry mixer at SXSW and is set to perform at Coast 2 Coast Mixshow LIVE edition coming up on May 4, 2012.
"The Other Side" is available to view at http://www.youtube.com/watch?v=Z6WnvMVGMLg&feature=youtu.be